Photo Gallery
Cajun's Wharf--Farewell DJ Max!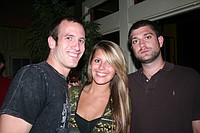 DJ Max put on his last Cajun's show Thursday, August 2 before heading to VEGAS!
As Tiger Woods taught us, Lance Armstrong reaffirmed and Tom Brady needlessly underscored, it's always dangerous placing famous athletes on pedestals.
That said, former Atlanta Brave and recently elected Hall of Famer John Smoltz's appearance at this newspaper's Best of Preps banquet at the Chattanooga Convention Center on Monday night should be a must-watch moment for everyone who couldn't be there. And those who were there would be wise to revisit Smoltzie's wisdom whenever possible.
More nominees
See more 2015 Best of Preps nominees.
To all those parents looking to ride their children's athletic coattails to ridiculous riches, or at least a college scholarship, by pushing them too hard and toward a single sport, Smoltz said:
"My biggest burden in life is trying to explain to parents that there's more kids playing sports at 13 than ever before, but there are also more kids quitting at 13 than ever before because they're burned out. Too many people think the more you play something the better you get, and that's not true. Specialization has gotten out of hand. We've forgotten to have fun."
To those coaches who believe it's worth risking their young players' futures, particularly those of softball and baseball pitchers, to achieve team success in the present, Smoltz noted: "You can't teach a live arm. Young people have never incurred so many injuries, and it's getting worse. The tendons of a young arm can't withstand the velocity that's out there today."
And to those students who push too hard or are pushed too hard to succeed in athletics, Smoltz added: "Be passionate about the process, not consumed by the outcome. Kids need to dream. You have to aspire to be the greatest, but don't be afraid to fail. Learning through failure is good for you. Everyone wants instant success. They take it for granted. I always try to send a message to be disciplined and dedicated. You have to sacrifice, and most kids today don't understand what that means."
If that was all he said, it could have been enough to change the direction of youth sports in this region, if not the whole country.
But Smoltz didn't stop there.
He told of his own childhood, a sports nut born to musician parents who introduced him to the accordion at the age of 4. He took lessons. He soaked up Lawrence Welk records and polka music at a time when most kids in Lansing, Mich., were listening to Motown, the Beatles and the Stones.
At the age of 7 he also told his parents that he wanted to be a major league baseball player. His backup plan? A gas station attendant.
But his father worked three jobs to help him realize his dreams. After reaching all-state status in both basketball and baseball, he wound up with the Detroit Tigers, who later traded him to Atlanta. Through his first four professional seasons he played on four last-place teams.
Then came the summer of 1991, and Smoltz, who estimated he threw 100 Game 7s in his Lansing back yard, winning 99 of them -- "Because winning them all would have been too unbelievable," he said with a laugh -- pitched a Game 7 NLCS win over Pittsburgh, then threw nine shutout innings in the seventh game of the World Series but watched from the dugout as the Twins won it in the 10th.
For Braves fans still lamenting that loss, Smoltz threw a what-might-have-been thought into the equation. Smoltz didn't pitch Games 1 or 2 because "I had food poisoning. I never left the hotel (in Minneapolis) those first two games."
What he left behind after the 1995 season was his total obsession with the game at the expense of things that should matter more. With the help of a prayer group at his Atlanta church led by comedian Jeff Foxworthy, Smoltz returned to the values of his childhood home, where God was first, family second, schoolwork third and sports fourth.
"Baseball will eat you up if that's all you think about," he said. "The reason I think I won the Cy Young in 1996 was because peace had entered my heart. I wanted to be a warrior for God. I wanted to play for an audience of one instead of 40,000."
He now wants to play golf in front of the Champions Tour's audience. Having turned 48 less than three weeks ago, Smoltz has two years before he's eligible for the older circuit.
"I didn't think I could a year ago," he said. "My shoulders were so bad. But the last three weeks I've gotten pretty excited. I feel like I've figured some things out. The last round I had 11 birdies and shot a 64. I had nine birdies and an eagle on my birthday (May 15) at Greenbrier. If I can keep playing like this, I'm definitely going to give the senior tour a try."
He's also certain to try to get Greg Maddux back for Mad Dog's dig at Smoltz's receding hairline during last year's Hall of Fame induction.
"A little hint," Smoltz said with a grin. "I've lost 12 pounds. I'm going to lose five more. What I've lost, Greg's found."
But what we all believe we found again Monday was the goodness and decency and honor in this man who won 213 major league games and saved 154.
"I've never been tempted to cheat to win," Smoltz told more than 200 of our area's best and brightest athletes. "And I'm more grateful for that than anything else."
If everyone fortunate enough to have been inside the Convention Center ballroom on Monday -- athletes, parents, coaches and fans -- embraces nothing more than that from this point forward, Smoltz will go down as the best Best of Preps speaker ever.
Contact Mark Wiedmer at mwiedmer@timesfreepress.com.