Photo Gallery
Cajun's Wharf--Farewell DJ Max!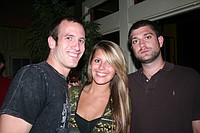 DJ Max put on his last Cajun's show Thursday, August 2 before heading to VEGAS!
As Tiger Woods taught us, Lance Armstrong reaffirmed and Tom Brady needlessly underscored, it's always dangerous placing famous athletes on pedestals.
That said, former Atlanta Brave and recently elected Hall of Famer John Smoltz's appearance at this newspaper's Best of Preps banquet at the Chattanooga Convention Center on Monday night should be a must-watch moment for everyone who couldn't be there. And those who were there would be wise to revisit Smoltzie's wisdom whenever possible.
More nominees
See more 2015 Best of Preps nominees.
To all those parents looking to ride their children's athletic coattails to ridiculous riches, or at least a college scholarship, by pushing them too hard and toward a single sport, Smoltz said:
"My biggest burden in life is trying to explain to parents that there's more kids playing sports at 13 than ever before, but there are also more kids quitting at 13 than ever before because they're burned out.