Vote for Best Town Ever
Cast your ballot here.
The battle to be named Outside Magazine's "Best Town Ever 2015" will be called at 11:59 p.m. EST, and whichever town has the most votes -- Chattanooga or Port Angeles, Wash. -- will prevail.
At stake are a year's worth of bragging rights and branding opportunities. As the competition enters its final hours, more than 100,000 votes have been tallied, with Chattanooga holding a slim lead of a few thousand votes.
In the later rounds of the competition, things have gotten a little chippy. After Chattanooga defeated Boone, N.C., in the round of eight, Boone sympathizers launched an ABC (Anything But Chattanooga) hashtag on Twitter. The final round hasn't been exempt from negativity or controversy, either.
In the comments section on the competition's website Wednesday, proponents of both towns squabbled over things such as humidity, bugs, smell and grammar, and attempted to out-"nature porn" each other, posting idyllic pictures boasting the natural beauty of both areas.
There were even allegations of "robo-voting" -- there was an 8,000-vote spike in Port Angeles' favor during a one-hour period Saturday. Outside Magazine added a "CAPTCHA" test -- prompts to type sequences of slightly distorted letters or numbers to determine whether a user is human -- to its voting process shortly after. Messages left with Outside Magazine to verify why the CAPTCHA test was added went unreturned.
Russ Veenma, executive director of the Port Angeles Regional Chamber of Commerce, said he had heard about the claims of robo-voting. While he assumed that was the reason the CAPTCHA was added, he said he's been focusing on the positive aspects of the competition.
Photo Gallery
Big Dam Bridge Walk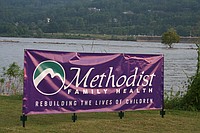 A walk benefiting Methodist Family Health held at the Big Dam Bridge on Friday, August 3.
"We feel really good about making it to the finals," Veenma said. "It's been a lot of positive PR for the town outside of this area, as well as inside the community on a bonding basis."
Veenma said local residents, small businesses and leaders have joined to promote the contest. He said the coastal town of 19,500 is confident about its chances -- despite having a much smaller population than Chattanooga -- because of national exposure from having Olympic National Park in its backyard.
"We'd love to win, but second place is good, too," Veenma said. "Chattanooga is a deserving town."
Chattanooga, which is seeking to become the contest's first two-time winner, isn't resting on its laurels. The Chattanooga Convention and Visitors Bureau issued a "10-Minute Challenge" email blast urging people to vote and share the contest link with 20 contacts -- 10 in Chattanooga and 10 outside.
Bob Doak, president and CEO of the Chattanooga Convention and Visitors Bureau, said the competition isn't just about bragging rights. He said superlatives are big in his business and they help a lot when singing your town's praises, especially coming from an unpaid third party.
"Those intangibles turn into tangibles pretty quick," Doak said. "Superlatives don't just increase tourism, they attract businesses, and people wanting to relocate to the area."
More than the financial rewards, Doak said being named "Best Town Ever" for a second time would emphasize what so many people in the area already know.
"It would speak volumes to the great assets we have here and our people," Doak said. "One thing we're proud of is we're an authentic city. This is a special place we call home."
Contact Will Healey at whealey@timesfreepress.com or 423-757-6731.
Read more
* Final battle: Chattanooga duels Port Angeles for Outside magazine's Best Town Ever title * Greeson: Chattanooga moving along in Best Town Ever competition * Chattanooga or Port Angeles? Which will emerge as the 'Best Town Ever'? * Chattanooga moves into Best Town Ever semifinals * Chattanooga beats Boone in 'Best Town Ever' competition * Chattanooga clings to slim lead over Boone in Best Town Ever quarterfinals * Greeson opinion: Secret alliances and Twitter campaigns won't make Boone a better outdoor city than Chattanooga * BEAT BOONE: Gap narrows in vote for Best Town Ever * Chattanooga advances to final 8 in Best Town Ever contest * Chattanooga advances to quarterfinals in Outside magazine's Best Town Ever contest * Chattanooga competes for Outside magazine's 'Best Town in America' * Chattanooga back in the running for Outside magazine's Best Town in America * Chattanooga wins Facebook vote in Outside magazine's 'Best Town Ever' contest