NASHVILLE -- For weeks, state Sen. Todd Gardenhire, R-Chattanooga, has felt activists' wrath for voting with six other GOP senators on a Senate panel to kill fellow Republican Gov. Bill Haslam's Insure Tennessee proposal.
Advocates held a mock funeral outside his Chattanooga office in early February and followed up with a prayer service in front of GOP headquarters here while he was speaking about his vote to local Republicans. Someone also chalked graffiti outside his downtown office.
Medicaid march
* Rally at 10 a.m. Wednesday at the Bradley County Courthouse with a prayer service and news conference before march to the Polk County Courthouse. * On Thursday, gather at the Polk County Courthouse at 10 a.m. and walk to Etowah. Friday's march is from the McMinn County Courthouse to the Meigs County Courthouse. * Saturday's rally is at the intersection of Highways 58 and 68 in Ten Mile, Tenn., followed by a march to Sweetwater City Hall and the Monroe County Courthouse and ending with an evening prayer service.
Advocates said the acts symbolized the impact of his vote, which helped kill Haslam's plan to expand Medicaid health coverage to 280,000 low-income Tennesseans available under the Affordable Care Act.
But Gardenhire hasn't been the only target -- at least three others on the winning side of the 7-4 vote have been catching heat as well.
And that's expected to pick up on Wednesday when advocates launch a nearly 70-mile, four-day walk across the Southeast Tennessee district of Sen. Mike Bell, R-Riceville, one of the senators voting no.
Advocates are calling it the "Insure Tennessee Journey for Justice" and say the governor's proposal "must be passed before the close of this legislative session."
The same day, activists plan a "pray-in" at the state Capitol in Nashville during what they're calling a "Moral Day of Action."
"Two dozen Tennesseans die every month, over 50 hospitals are at risk of closing, and yet we have the opportunity to receive $1 billion per year of assistance," Pamela Weston, who is involved in the march in Bell's district, said in a statement. "Why would we ever refuse that?"
Weston, who lives in Sweetwater, Tenn., said in an interview the intent is to "draw attention to the problem and send a message this is not under the radar and this is not OK."
But the advocates' passion isn't changing the senators' minds, judging by interviews with Gardenhire, Bell, Janice Bowling of Tullahoma and Frank Niceley of Strawberry Plains.
"They think they smell blood in the water," Gardenhire said.
He believes the activists are getting their "talking points" from the Tennessee Democratic Party and other groups including organized labor.
Tennessee Democratic Party Chairwoman Mary Mancini said passing Insure Tennessee "is the right thing to do for almost 300,000 hard-working Tennesseans in getting health insurance."
But she said the party is "not involved" in activists' actions, noting, "Those are coming straight from folks right on the ground who know it's the right thing to do."
Gardenhire has said he voted no because he hadn't been given enough details on the plan, including a federal promise the state could drop out if the state didn't think it was working.
Federal money would cover the first two years of the Medicaid expansion and 90 percent of the costs after 2020. The Tennessee Hospital Association agreed to pay the state's share. But Gardenhire and the other lawmakers say there was no legally binding commitment on that.
Bell, Bowling and Niceley agreed, and pointed to testimony by James Blumstein, a Vanderbilt University professor and Medicaid expert who said the state could get a better deal.
Three other Republican senators who voted no -- Brian Kelsey of Germantown, Rusty Crowe of Johnson City amd Carey Roberts of Springfield-- could not be reached for comment.
Grim reapers on the trail
Bell said he has been getting emails and telephone calls since the vote.
Heading into the Feb. 28 Lincoln Day Dinner in Monroe County, Bell saw several people dressed in Grim Reaper outfits standing by sidewalk graffiti charging that voting against Insure Tennessee was a death sentence for uninsured people.
They've shown up elsewhere, too, Bell said, though people in his district approve of his no vote. But he said a telephone call from West Tennessee two weeks ago was "disturbing."
Bell said the caller charged him with having "murdered" people. After an intern hung up, the man called back and left a message that Bell "probably should fear for your life." Bell said the caller also mentioned his family several times.
He said the Tennessee Bureau of Investigation contacted the caller, who told TBI Director Mark Gwyn he "would never call me again."
Tangling with a minister
Gardenhire and a Middle Tennessee-based clergyman, pastor Matt Steinhauer of Faith Lutheran Church in Lebanon, are having a lively exchange of emails involving politics and theology.
"I learned in this email exchange that 'civility and respect' in our debate is no longer expected,'" Steinhauer said in a statement.
He told Gardenhire in one email that he was making everyone he could "aware of the truth of the short sightedness of 7 State Senators who chose to say 'no' to loving our neighbor -- the least of these."
He added he had no interest in politics, but this was a "theological" issue.
Gardenhire replied, "I'm sitting here thinking; this guy forgot the part in the scriptures that said something about being good stewards of the money in-trusted [sic] to us. He has also forgot the part in scriptures about judging not lease [sic] you be judged."
Asked about the exchange, Gardenhire played for a reporter a profanity-laced telephone message from a furious West Tennessee caller. The man cursed Gardenhire and included an insulting remark about the senator's mother, saying it takes someone like that to "raise such an evil man like you."
Gardenhire said, "And somebody wonders why I get a little rough with them?"
Contact staff writer Andy Sher atasher@timesfreepress.comor 615-255-0550.
Photo Gallery
Bowling For Rhinos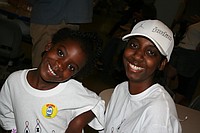 The Little Rock Zoo sponsored the Bowling for Rhinos event at the Millennium Bowl in Maumelle on Thursday, June 21