Photo Gallery
Rumble @ the River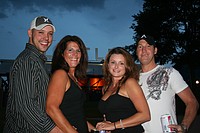 103.7 The Buzz and SubZero Fighting bring a fight night to the Riverfront Amphitheater.
Finally, Wednesday morning came.
At 5 a.m., Wednesday, more than 100 people were already waiting along the sidewalks at Fort Oglethorpe's Cabela's, anticipating the moment five hours later when the heavy wooden doors would open to the public and store staffers would cheer and clap and hand out $1,000 shopping sprees, GoPro cameras and MoonPies.
Early Wednesday, top Cabela's officials -- including co-founder and co-owner Mary Cabela -- showed up in town on a jet and drove down to the brand-new Fort Oglethorpe store, the third Cabela's location to open in Georgia, following Augusta and Acworth.
The store opened at its location just behind Costco off Cobb Parkway near Interstate 75 and Cloud Springs Road.