Photo Gallery
Rumble @ the River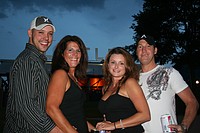 103.7 The Buzz and SubZero Fighting bring a fight night to the Riverfront Amphitheater.
Finally, Wednesday morning came.
At 5 a.m., Wednesday, more than 100 people were already waiting along the sidewalks at Fort Oglethorpe's Cabela's, anticipating the moment five hours later when the heavy wooden doors would open to the public and store staffers would cheer and clap and hand out $1,000 shopping sprees, GoPro cameras and MoonPies.
Early Wednesday, top Cabela's officials -- including co-founder and co-owner Mary Cabela -- showed up in town on a jet and drove down to the brand-new Fort Oglethorpe store, the third Cabela's location to open in Georgia, following Augusta and Acworth.
The store opened at its location just behind Costco off Cobb Parkway near Interstate 75 and Cloud Springs Road. The 72,000-square-foot store employs around 200 full- and part-time workers. All but a handful are local hires.
At 7 a.m. Wednesday, the opening ceremonies began, with music and entertainment. By 9:30, the store's parking lot turned into a miniature carnival, with an enormous Smokey Bear and a performance from Cabela's brand ambassador and country artist Lucas Hoge.
There are special guests and events planned for every day through Sunday, including appearances by Duck Dynasy's Mountain Man and "Team Elk" co-host Kristy Titus, as well as Steve Scruggs, "The Snake Master." Early bird handouts are also planned for guests through Sunday.
After calling in sick to work on Wednesday, several people waiting to go in the store ducked out of video footage or hid their faces when cameras came around.
Into late morning, cars continually poured in.
Just before 10 a.m., the store had its ceremonial ribbon-cutting -- which was unorthodox, but very Cabela's, bow-and-arrow style.
And at last, the doors opened. Within an hour, nearly 2,000 shoppers had entered the store.
Gun lovers flocked to the gun library and gun sales desk at the rear of the store. Boxes of ammunition walked out the door -- thanks to grand-opening sales pricing, a lot of it was as cheap as before the ammo shortage and scare of recent years, said some.
Most items in the store are marked down through the end of the week for the grand-opening.
"Actually, we go to the Cabela's in Acworth," said Sue Poteet.
She and her husband, Dwight, recently bought a boat from the suburban Atlanta store and got a Cabela's mailer at their Chatsworth home announcing the Fort Oglethorpe store and its sales.
Sue spotted a sale on life vests, 50 percent off.
"It was half-price, you can't pass that up," she said.
They spent around an hour-and-a-half at the store Wednesday morning.
Meanwhile at the front door of the store, even an hour after folks started coming in, company matriarch Mary Cabela clapped and welcomed guests.
"I get excited every time," she said.
Cabela said the company that people see today "started in my pantry" back in the early '60s.
"It was just going to be a hobby," she said.
Ellis Yarrell, general manager at the Fort Oglethorpe Cabela's, stood with corporate officials late Wednesday morning and took in the controlled shopping chaos going on inside the store.
"It's really a fun day," he said.
After months of stocking and training and hiring and preparing, he said Wednesday -- and the remainder of this entire week -- is about reaping the benefits of the months of behind-the-scenes work.
Yarrell came to Cabela's from other major retail chains and said Wednesday's event was "the coolest thing I think I've ever seen."
"Each time I go to [a grand opening]," he said, "I can't believe all these folks who come out."
Contact staff writer Alex Green at agreen@timesfreepress.com or 423-757-6480.