Photo Gallery
UTC Mocs defeat Hiwassee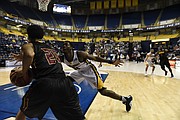 More Info
UTC 94, Hiwassee 55 Hiwassee (4-4) Henry 1-2 0-0 2, Johnson 4-10 0-0 8, Kitchens 5-11 0-0 12, Jeulian High 3-6 0-0 6, Davidson 1-4 0-0 2, Newman 2-4 0-0 4, Beard 1-2 0-0 2, Graves 4-9 1-1 11, Oliver 0-3 0-0 0, Sumpter 1-2 2-2 4, Culpepper 0-4 0-0 0, Jackson 0-2 0-0 0, Elliott 2-5 0-0 4, Sexton 0-1 0-0 0. Totals 24-65 3-3 55.UTC (2-0) Tuoyo 5-6 6-7 16, McLean 3-9 1-2 8, Pryor 2-4 1-2 7, Robertson 2-4 0-0 5, Jones 4-6 0-0 8, Ester 2-3 0-0 4, Oldham 4-4 0-0 9, Matthews 0-5 0-2 0, Burroughs-Cook 3-5 1-1 8, Woods 5-9 0-0 14, Bates 1-3 1-3 3, Bran 3-3 0-0 8, White 1-2 0-0 2, Kalina 1-2 0-0 2. Totals 36-64 10-17 94.Halftime—UTC, 51-26. 3-point goals—Hiwassee 4-19 (Graves 2-5, Kitchens 2-6, Davidson 0-1, Beard 0-1, Oliver 0-1, Sumpter 0-1, Jackson 0-1, Elliott 0-1, Culpepper 0-2); UTC 12-26 (Woods 4-7, Bran 2-2, Pryor 2-3, Oldham 1-1, Robertson 1-3, Burroughs-Cook 1-3, McLean 1-5, Matthews 0-2). Rebounds—Hiwassee 26 (Elliott 4); UTC 46 (Jones 8). Assists—Hiwassee 12 (Kitchens 3, Sumpter 3); UTC 25 (McLean 5, Pryor 5). Turnovers—Hiwassee 25 (Kitchens 6); UTC 23 (Oldham 4, Bran 4). Blocks—Hiwassee 3 (Kitchens, Culpepper, Elliott); UTC 8 (Tuoyo 4). Steals—Hiwassee 15 (Kitchens 3); UTC 18 (Pryor 6). Total fouls—Hiwassee 19, UTC 8. Fouled out—none. A—3,241.
For a while, Justin Tuoyo and some of the other University of Tennessee at Chattanooga men's basketball players were able to just be fans.
With the game well in hand Monday against Hiwassee College, the 6-foot-10 reigning Southern Conference defensive player of the year became the Mocs' tallest cheerleader, waving a towel above his head as 7-foot center Rich Kalina scored his first college points on a dunk assisted by fellow freshman ZaQwaun Matthews.
"I lost my mind," Tuoyo said of his reaction to Kalina's dunk. "It felt good on the sideline, so I'm proud of them. Really happy for them."
The Mocs defeated the Tigers 94-55 in front of 3,241 fans at McKenzie Arena. UTC (2-0) will not play at home again until a Dec. 8 date with Tennessee Wesleyan, with five away games in a nine-day stretch starting Saturday at 8:30 p.m. against Illinois in the Emerald Coast Classic.
The Illini's home gym is being renovated, so the game will be played in Springfield, Ill., at the Prairie Capital Convention Center.
Monday was a good response for the Mocs after their overtime win at Georgia on Friday.
"I constantly talk to these guys about fighting their circumstance," UTC coach Matt McCall said. "It would have been easy to be complacent, especially after these last two days of practice. You're walking around here and everyone is telling you congratulations and how great you are.
"The bottom line is we won one game and we had to get back to work. It's a long season and we had to get refocused and locked in on our next opponent who is in front of us and continue to get better with the whole process. I've been preaching the process from the beginning, and I thought for the most part we did that tonight. It was good to get everyone in the game. I think we've got quite the schedule coming up here, so it was good to play our bench a lot."
The Mocs pounded the paint (44 points), scored in transition (28 points off turnovers), smothered the glass (15 offensive rebounds, 17 second-chance points) and received contributions from all around, with 50 points from their reserves and 44 from their starters.
No Moc played more than 23 minutes. Tuoyo had a game-high 16 points and added four blocks. Freshman Peyton Woods added 14 points on 4-for-7 3-point shooting. Tre' McLean and Greg Pryor had five assists each, and Pryor tied a career high with six steals.
Woods had missed all of his 3-point attempts in a preseason scrimmage at McKenzie and in the exhibition contest against Covenant.
"As a shooter, you can't let that get to you," he said. "I worked hard all week, and the ball went in tonight."
He is 6-for-11 from 3-point range for the season, having made two big ones at Georgia on Friday.
Dee Oldham made all four of his shots and finished with nine points to go along with seven rebounds, while Casey Jones had eight points and a team-high eight rebounds.
The Mocs had 25 assists and shot 56 percent from the floor while making 12 of 26 3s. They made 23 turnovers but forced 25 Hiwassee mistakes and limited the visitors to 37 percent shooting.
Former Brainerd standout Demetrius Kitchens had a team-high 12 points for the Tigers (4-4), while D.J. Graves added 11. Jeulian High, who also played at Brainerd, had six points.
The Mocs pulled away early, using a 31-9 run in the first half to build a 51-26 lead at the break. The margin topped off at 42 points with Kalina's dunk with 4:03 remaining.
Contact Gene Henley at ghenley@timesfreepress.com. Follow him at twitter.com/genehenleytfp.