Photo Gallery
Mocs firmly control Furman in 31-3 victory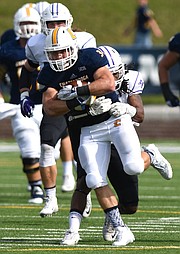 The Southern Conference has brought out the best in the University of Tennessee at Chattanooga football team this year.
The sixth-ranked Mocs have outscored their league opposition 62-24, with wins over Samford and Furman - two teams that either were predicted to be near the top of the conference or had trended in that direction in the early part of the season.
The two wins bring the Mocs' consecutive-win streak in conference play to nine games, with their last loss an overtime defeat at Samford in 2013. In that streak, UTC has a 354-132 scoring margin.
After both games this season, UTC coach Russ Huesman raved about the quality of players for each opponent. The Mocs have just had better. On both occasions, he made the same statement: "That team is going to win a lot of games."
"When we played Samford, I'm sure they don't think they played their best," Huesman said. "I don't know how Furman feels, but the reason I say that those teams are going to win a lot is because I see the players they have. They have good players - and we do, too.
"I think sometimes we take it for granted, but we have good players. We're going to have to keep playing, though. It's only going to get harder and harder."
The Mocs' next test is at Virginia Military Institute this week. The Keydets like to throw and throw a lot, evidenced by their 247 passes in six games - an average of over 40 per game. Quarterback Al Cobb has thrown for 1,554 yards and nine touchdowns but with 13 interceptions.
His interception total is the highest for any FCS quarterback that has averaged 15 attempts per game.
Ribeiro honored
UTC's Henrique Ribeiro was named the SoCon special teams player of the week, announced Monday.
The junior kicker made a 36-yard field goal, while his four extra points in the Mocs' 31-3 win over Furman gave him 62 consecutive, which ranks as the seventh-longest streak in league history.
He also had two punts for a 55.0-yard average, both of which were downed inside the Furman 20.
Derrick Craine, who had 138 yards rushing and three touchdowns, was a nominee for offensive player of the week, while Lucas Webb had four tackles and a 35-yard interception return for a touchdown and was nominated for the defensive honor.
Contact Gene Henley at ghenley@timesfreepress.com. Follow him at twitter.com/genehenleytfp.