Photo Gallery
Chattanooga hits 20 homicides in 2015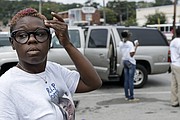 ALL HOMICIDES AND SHOOTINGS, YEAR-TO-DATE
2015: 91 2014: 92 2013: 99 HOMICIDES, YEAR-TO-DATE 2015: 20 2014: 21 2013: 16 GANG-RELATED HOMICIDES AND SHOOTINGS, YEAR-TO-DATE 2015: 53 2014: 52 2013: 67 Source: Chattanooga Police Department CHATTANOOGA HOMICIDES BY YEAR 2015, to date: 20 2014: 27 2013: 19 2012: 24 2011: 25 2010: 20 2009: 11 2008: 20 2007: 16 2006: 19 2005: 23 2004: 16 2003: 24 2002: 21 2001: 26 Source: Chattanooga Police Department, Times Free Press archives
Eight days after Jordan Clark was shot and killed on a Chattanooga street, his mother stood on a corner two miles away and asked strangers to help pay for her son's funeral.
Satedra Smith and other relatives donned "R.I.P. Jordan" T-shirts and shouted and waved signs and milk jugs at passing cars on Brainerd Road. Every couple of minutes, a car paused and someone would drop $1 or $5 or $10 into a milk jug.
The funeral home told Smith she needed $5,000, so that was the goal. She raised $1,100 on Wednesday.
Clark, 20, was shot twice in the back and once in the leg on Aug. 25 in what police say was a gang-related dispute. Clark was the 20th person to be shot and killed in Chattanooga so far this year.
"It's too many," Smith said. "It's too many for the year."
At first glance, Chattanooga is about even this year with the pace of homicides in 2014 - 21 people had been killed at this point last year, compared to 20 this year. But almost a third of this year's victims were killed in one attack: when Mohammad Youssef Abdulazeez shot and killed five U.S. service members at a reserve center on Amnicola Highway, then was himself shot dead by police. Without those six deaths, this year's homicide count drops to 14.
One of the remaining deaths was a justified case of self-defense, and another man was shot and killed by law enforcement. Without those two cases, the count drops to 12, compared to last year's 21.
"That's a 43 percent reduction in apples-to-apples murders," police Chief Fred Fletcher said.
It's a 33 percent drop if the victims from the July 16 attack are removed from the mix.
Either way, the decline is small comfort to Smith. The number of total shootings and homicides in Chattanooga this year is at about the same level as the last two years - 99 incidents at this point in 2013, 92 in 2014 and 91 this year. Most of the victims, like Smith's son, are young black men.
"This senseless violence, it's every day," Smith said. "It's every single day."
Gang-related violence is also holding steady in 2015. Police recorded 67 gang-related shootings and homicides at the end of August 2013, 52 in 2014 and 53 so far this year.
In 2014, the city rolled out the Violence Reduction Initiative specifically to reduce gang-related gun violence, with mixed results during its first year. The initiative, which is ongoing, aims to give help to gang members who want a way out, while also coming down hard on offenders who keep shooting.
So far, police say they have cracked down on gangs eight times as part of the VRI and have arrested 249 gang members on various charges.
On Wednesday, Fletcher admitted that gang-related violence is not down as much as police would like.
"Anytime that 4-year-olds and 14-month-olds are shot in my community, anytime I've had over a dozen murders, near triple-digit shootings, I am not happy with the safety of my community," Fletcher said.
Fletcher was referring to the June drive-by shooting on Youngstown Road that injured two 4-year-olds, and to the January home invasion in College Hill Courts that left a 14-month-old toddler paralyzed.
"I would add to that that I believe in our three pillars of policing strategies," Fletcher said.
Those pillars are community policing, focused deterrence and intelligence-led policing.
"I believe that they will not only prove effective but legitimate, but I'm happy to say that our crime overall - both violent and property - is going down."
In the first six months of the year, burglaries, theft and auto theft dropped by about 10 percent compared to 2014, according to police records. Violent crime - homicides, rapes, robberies and aggravated assaults - dropped by 4 percent.
Fletcher hopes to target domestic violence during the remainder of the year, drawing on new resources like the Family Justice Center, a site designed to cater to victims of domestic violence by offering a variety of services under one roof near the Eastgate Town Center.
Contact staff writer Shelly Bradbury at 423-757-6525 or sbradbury@timesfreepress.com with tips or story ideas.