Photo Gallery
Donations support three schools, two nonprofits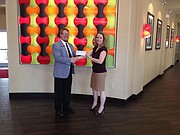 SouthEast Bank donates to Ooltewah High
SouthEast Bank recently implemented its Prep Promise Program, which uses through donations as well as student and teacher recognitions to benefit high schools that the bank serves. Participating schools, such as Ooltewah High, receive an initial annual donation of $3,500 at the start of the school year. Each month throughout the school year, outstanding students, athletes and staff members are chosen from each partner school and recognized on the bank's website. Additionally, the staff member of the month receives a $100 SouthEast Bank gift card.
Forty & Eight fund Cleveland State scholarship
The Forty & Eight recently presented a $2,000 gift to support its nursing scholarship at Cleveland State Community College in Cleveland, Tenn.