When authorities pulled Johnny "Mack" Salyer from a 55-gallon steel drum at Chickamauga Lake 34 years ago, his body was so badly decomposed they couldn't tell how he died.
Clad in underwear and stuffed into the barrel, Salyer remained anonymous until his roommate and cousin identified him by a Rolling Stones tattoo on his right inner thigh.
"There is no doubt the man met with foul play," a Hamilton County Sheriff's Office detective said in June 1981. "He was stuffed into a 55-gallon drum which had been sealed and six holes were burnt into it with an acetylene torch."
Photo Gallery
Foam Fest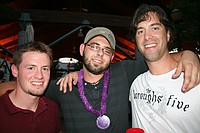 Local restaurants and bars serve beer & wine party to benefit the Arthritis Foundation in the Rivermarket, Friday, June 27.
Despite naming a primary suspect, over the next three decades authorities could not crack the case - until this week.
State investigators arrested William Frank Hawk, a 61-year-old bowling alley owner, Tuesday morning at his home in Greene County, Tenn., Hamilton County District Attorney General Neal Pinkston announced at a news conference. The grand jury indicted Hawk on Monday on a charge of first-degree murder and set a $500,000 bond.
His next scheduled appearance will be in Hamilton County Criminal Court with Judge Don Poole.
"It is absolutely great to see a cold case solved," said former HCSO detective Larry Sneed, who worked on the case extensively during the 1980s. He flanked Pinkston at Tuesday's news conference.
Hawk, whose late father owned the Holiday Bowl on Brainerd Road, was the state's suspect from the beginning, Pinkston said. However, several younger, uncooperative witnesses kept authorities from linking him to the killing.
"Sometimes resources are what they are," he explained.
Pinkston said Sneed convinced him to revisit the case because of its "high-solvability rate." This is the second resolved slaying since Pinkston launched the cold case unit last fall.
Pinkston didn't specify what changed between 1981 and 2015 that allowed authorities to arrest the 61-year-old suspect. If convicted, Hawk faces death or life in prison, according to a news release.
On June 2, 1981, around 6:30 p.m., Maxine Greene and her husband, William, noticed a drum barrel bobbing near the dock at their house on Rocky Point Road. William tried fishing it from the water because his friend was looking for a burning barrel to make barbecue, according to news archives.
But the 55-gallon drum was heavy, riddled with holes and reeked of dead fish.
He pushed it back into the slough and said the odor wasn't as bad the next day. But his wife, unable to tolerate it, called the Coast Guard, who called police. They found Salyer's body, stuffed bottom-first, inside.
Salyer had red hair, was 6 feet tall and weighed about 200 pounds. At the time, he was a known drug dealer and a co-defendant with Hawk in a pending cocaine distribution case, according to Pinkston's office.
Salyer had an estranged wife and a daughter living in Indiana, Pinkston's office said Tuesday. They declined to comment, authorities said.
The last time they had heard from Salyer was May 24, 1981 - 10 days before he came to the surface.
Contact staff writer Zack Peterson at zpeterson@timesfreepress.com or 423-757-6347. Follow @zackpeterson918.