Photo Gallery
Gang war escalates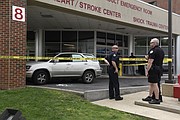 This is perhaps the most violent four days this city has experienced since I've been here.
An ongoing gang war that has already resulted in the death of a 17-year-old man continued to claim victims Tuesday when a pregnant woman was shot in the stomach outside a store on Grove Street.
The victim, who has not been identified, is the second pregnant woman to be shot in Chattanooga in two days. Chattanooga Police Chief Fred Fletcher said Tuesday's mid-morning shooting appeared to be an act of retaliation for a Monday night shooting on Arlington Avenue in which a 24-year-old pregnant woman was shot in the leg.
The woman shot on Grove Street was in critical condition after undergoing emergency surgery on Tuesday. Her fetus survived the attack. A man was also wounded in the shooting.
Witnesses said the shooter pulled up to the store with music blaring then started to throw gang signs and pick a fight. They said the woman came from a nearby home and approached the man, who was outside his vehicle.
That's when six or seven shots rang out, said one witness who asked not to be identified.
"I heard the shots, and I ran down the steps back to my house," she said. "I just kept on running."
The incident is the latest in an ongoing dispute, primarily between the Gangster Disciples and the Athens Park Bloods, that flared up when 22-year-old Robert Jackson, a Gangster Disciple, was gunned down outside Sky Zoo on April 10. The violence escalated when 17-year-old LaDarious Bush, an Athens Park Blood, was killed in a drive-by shooting on Monday in an apparent act of retaliation.
There have been nine shootings in Chattanooga since Saturday, and at least six of those are likely part of the ongoing gang war, according to police. Two shootings were not gang-related, they said.
"This is perhaps the most violent four days this city has experienced since I've been here," Fletcher, who became chief in the summer of 2014, said at a news conference Tuesday afternoon.
Some Hamilton County public schools in areas near the violence kept kids inside during recess and physical education classes on Tuesday, said acting superintendent Lee McDade. Students will return outside only if the situation calms down, he added.
"We just got to keep kids safe," he said.
But police are preparing for more violence.
* * *
This latest spate of shootings isn't spontaneous.
The roots of the conflict reach back to at least 2007, when a man named Larry Bush was sentenced to nearly 18 years in federal prison on a gun charge.
Bush, known as "OG Larr Dogg," was a major player for the Athens Park Bloods. He's a man Fletcher describes as a "notorious federal inmate" and gang leader in Chattanooga. In 2011, his son, Aundre Bush, was shot to death when he was 19.
And on Monday, he lost a second son - LaDarious Bush, the 17-year-old who was shot and killed on Seventh Avenue.
Their father's name echoed across social media Tuesday as friends and family mourned for LaDarious and cursed the shooter.
"Free larr dogg and A.I.P Aundre watch over me yall are my guardian angels," one person wrote.
"Og Larr Dog done took two Loses why in there," another person posted.
"I Won't sleep Till dem [expletive] [racial slurs] dead," wrote another.
The conflict, long simmering, simply exploded with LaDarious Bush's killing.
"The dynamic has reached a new tenor," Fletcher told Chattanooga City Council members. "The cavalierness about human life has reached a new pitch that is very unfamiliar to most of us who have been dealing with this for many decades."
At a news conference Tuesday, Fletcher laid out a series of steps police are taking to try to stem the pace of the violence. The department is sending extra officers to at-risk areas and will pull manpower from traffic division, K9, street crimes and command staff.
Fletcher also cancelled an in-service training class with 25 officers and sent those officers back on the streets. He reworked some officers' scheduled days off, and other officers are working overtime.
But the gangs are defiant, Fletcher said.
"[Gang members] told my officers we don't have enough police officers to stop this violence," he said. "They told my officers that they have more shooters than we have police officers. And I want to tell them something very specific. They are wrong. We are going to commit all the resources we have as a community, as a partnership and as a police department to prove them wrong."
As he spoke, he stood with Hamilton County Sheriff Jim Hammond, Chattanooga Mayor Andy Berke, Hamilton County District Attorney General Neal Pinkston and representatives from three federal law enforcement agencies.
"Gangs do not run the City of Chattanooga," he said. "We at the CPD and our partners stand steadfast."
But as he spoke, another call came in.
A man was shot in the leg at 700 Biltmore Drive.
When police arrived, they found Jackie M. Sawyer, 20, suffering from a non-life-threatening gunshot wound.
Officers marked shell casings in the road as onlookers gathered around. Police say between three and four black males fired multiple rounds from a burgundy colored compact sedan, striking the victim in the yard.
The victim was treated on scene and transported to a local hospital by Hamilton County Emergency Medical Services.
Staff writers Kendi Anderson and Paul Leach contributed to this story.
Contact staff writer Shelly Bradbury at 423-757-6525 or sbradbury@timesfreepress.com with tips or story ideas.
April shootings map:
Violent attacks since April 17