Photo Gallery
Ringgold tornado aftermath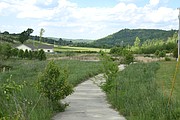 I still go through times of doubt, but I never doubt that God is good. You still are hurt. But the hurt starts to heal and you realize there is a purpose for everything.
It's been five years since Connie Wilson lost her sister, her sister's husband and their son and daughter, and she still sometimes wishes there was someone to blame for their deaths.
If they had been killed in a car wreck, she could blame the other driver.
If they had been shot, she could blame the person who pulled the trigger.