Photo Gallery
Passing the batonUnifiEd names new executive director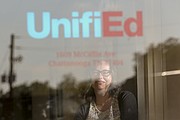 When UnifiEd Executive Director Elizabeth Crews looks back at what the nonprofit group has accomplished, her mind goes to the 187 public meetings and events it's held.
She said that since the organization's launch two years ago, the goal has been to listen to what the community says it wants to improve in Hamilton County Schools - and help people take action.
"People being a part of this movement has really brought a change for education here," Crews said Wednesday morning.
At the end of this week, Crews will be stepping down as the leader of UnifiEd and moving to New York City, and she is passing the baton to Jonas Barriere.
Barriere, who has a background in politics and community organizing, said Wednesday he's excited to continue the work Crews started.
"She really put us in a great position," he said. "She spent two years putting this organization together, and now I get to knock the pins down."
Alison Lebovitz, board chairwoman of UnifiEd, said that when the organization started no one knew what outcomes to expect.
"Advocacy work is hard to wrap your arms around," she said. "But now we see how our work is making a change and getting people involved."
Lebovitz said Crews' leadership has been vital to the organization's success, highlighting how she's helped many across the community use their voices to advocate for a quality education for all students.
Looking ahead, Lebovitz said she's glad UnifiEd found someone like Barriere to fill the large gap Crews will leave because he also has experience in engaging and empowering community voice.
"Our work is even more critical than ever," Lebovitz said, citing today's school board election and the selection of a permanent superintendent. "There is a chance for real significant change to our public school landscape."
Barriere said he plans to continue implementing UnifiEd's Pact for Public Education. The priorities of the pact are: ensuring high-performing teachers are in every classroom, guaranteeing equal opportunity for all students, increasing transparency and accountability, and prioritizing funding for public school.
Before taking the job at UnifiEd, Barriere worked with the American Federation of Teachers and the National Education Association, the two largest teachers unions in the country. Doing that work, he said, he kept hearing teachers say they wanted to see more engagement from the community and parents.
Barriere hopes in the coming year to bring more people - teachers, parents, students and community leaders - into conversations and the work of improving public education for all.
"I think if we can figure this out it can make a difference," he said.
Contact staff writer Kendi A. Rainwater at 423-757-6592 or krainwater@timesfreepress.com. Follow on Twitter @kendi_and.