Photo Gallery
Lee University opens new school of nursing building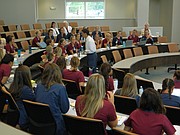 CLEVELAND, Tenn. - Lee University now offers a new three-story building, complete with simulation labs and robotic patients for the students of its fledgling four-year nursing program.
The vision for the 41,000-square-foot facility has grown since the launch of the nursing program two years ago, Lee University President Dr. Paul Conn said during a recent tour of the facility. The original plan for the building was four times smaller, he said.
"We're no longer asking how small can it be and still work," Conn said. "We're instead asking what kind of building would it take to house a big, significant nursing program - and we think we have that building."
Construction of the new building, which opened for classes on Wednesday, began in October 2015.
The $10 million structure features a 170-seat lecture hall and computerized learning spaces for specialties such as pediatrics, ob/gyn and telemedical caregiving. The labs mimic intensive care units, patient exam rooms and other healthcare settings.
Students learn their craft on a population of 17 simulated patients of assorted ages, sizes and sexes who make noises, secrete fluids and exhibit other life signs, Conn said, showing off one made to look like a man.
"He breathes, he sweats, he cries," professional practice coordinator Shannon McBrayer said of the robotic patient.
A combination of automated patients, computer-aided scenarios and realistic health care facility environments give students good hands-on experience relevant to actual clinical experiences, she said.
"We find that what [the students] practice is how they actually practice in the real world," McBrayer said.
Kayla Beckler, a nursing program student, praised the new facility for giving a home to the nursing students who had to meet in a variety of spaces across the Lee University campus over the last couple years. It was not just a matter of space, but also one of community, she said.
Joining the program at its outset - before it ever had a building of its own - was an easy choice, Beckler said.
"It's almost like it was no effort for me to choose where I wanted to go, because it was so clear to me where God wanted me to go," she said, describing how she changed plans to go to school away from her Cleveland home once she graduated high school. "I wouldn't have had it any other way."
The first students to earn bachelor of science degrees in nursing from Lee University will graduate in 2017, Conn said. The goal is to have 100 nurses graduate each year, he said.
Lee joins University of Tennessee at Chattanooga and Southern Adventist University, which also offer bachelor of science degrees in nursing.
Conn said Lee is "very well aware" of UTC's nursing program.
"We think the standard is high in this region and we want be the kind of school that gains the attention of the health care providers and the general public for the excellence of our nurses," Conn said. "And I believe we can meet that standard. I think this building is a reflection of that standard."
Lee University considered the possibility of offering a two-year nursing program, but ultimately opted to only proceed with a four-year degree program, he said, citing two-year programs already in place at Cleveland State Community College and Chattanooga State.
"We're all smiles," said Dr. Sara Campbell, dean and professor of Lee University's School of Nursing.
Contact staff writer Paul Leach at 423-757-6481 or pleach@timesfreepress.com. Follow on Twitter @pleach_tfp.