Photo Gallery
Lee University opens new school of nursing building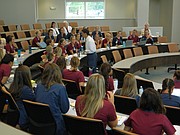 CLEVELAND, Tenn. - Lee University now offers a new three-story building, complete with simulation labs and robotic patients for the students of its fledgling four-year nursing program.
The vision for the 41,000-square-foot facility has grown since the launch of the nursing program two years ago, Lee University President Dr. Paul Conn said during a recent tour of the facility. The original plan for the building was four times smaller, he said.
"We're no longer asking how small can it be and still work," Conn said. "We're instead asking what kind of building would it take to house a big, significant nursing program - and we think we have that building."
Construction of the new building, which opened for classes on Wednesday, began in October 2015.
The