Photo Gallery
Blairsville: Scenic beauty and more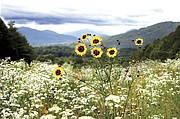 Blairsville is a mountain town located near the Chattahoochee National Forest. It is the county seat of Union County and the only incorporated community in the county.
Known for its scenic beauty, Blairsville is a place for hikers. The Appalachian Trail goes through town and is one of the area's most notable draws.
Vogel State Park, Georgia's oldest state park, and Brasstown Bald, the highest natural point in Georgia, are located in the area. Brasstown Bald has a visitors center at its top.
Festivals abound throughout the year. Don't miss out on the Sorghum Parade or the Green Bean Festival.
Blairsville received designation in 2011 as an official Appalachian Trail Community, meaning it has been acknowledged for advocating mindfulness of the Appalachian Trail as a key local and national resource.