Photo Gallery
Great Smoky Mountains wildfires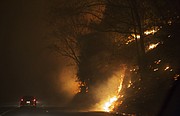 UPDATE: GATLINBURG, Tenn. (AP) -- Tennessee mayor: 13 people died from wildfires, including person who appears to have had heart attack fleeing flames.
ORIGINAL STORY: Thousands of people were preparing Friday morning to get their first look at what remains of their homes and businesses in Gatlinburg after a wildfire tore through the resort community in the eastern Tennessee mountains, killing 11 people and damaging hundreds of homes and businesses.
Tennessee Gov. Bill Haslam will visit Gatlinburg today and talk to state and local officials. He will be joined by Sens. Lamar Alexander and Bob Corker.
"From the Smoky Mountains to the Ocoee River, it is a difficult time for many in east Tennessee," Haslam said. "The state is doing everything we can to support the victims and survivors of these devastating disaster."
On Thursday, Haslam issued an executive order suspending certain state laws in order to ensure wildfire and severe weather disaster survivors have access to health care services, consumer rights protections and availability of state services as they recover.
Local officials, bowing to pressure from frustrated property owners, said they will allow people back into most parts of the city and affected parts of the county for the first time Friday beginning at 10 a.m.
Residents have to pass through a checkpoint and must show some proof of ownership or residency, Gatlinburg City Manager Cindy Cameron Ogle said.
"The city is not implying that private property is safe," she said. "People may encounter downed powerlines or other hazards."
Among those anxiously waiting to return was Tracy Mayberry. He and his wife, 12-year-old son and five dogs have bounced between hotels since they were forced to evacuate their rental home Monday night. They were struggling to find a place to stay Thursday as many lodges began to discontinue the special rates for evacuees.
"It feels like Gatlinburg is more worried about how to rebuild than they are about their people," he said.
In Pigeon Forge, the Comedy House rented an electronic billboard message that said it was open. A hotel flyer urged guests to check out the scenic Cades Cove loop: "Take a drive and remember what you love about the Smokies!"
Dollywood, the amusement park named after Parton, will reopen Friday afternoon after it was spared any damage.
"Sevierville, Pigeon Forge and Sevier County is open for business," Sevier County Mayor Larry Waters said Thursday. "We want people to know that they can visit these areas ... and we encourage them to do that."
The Associated Press was allowed exclusive access into the Great Smoky Mountains National Park on Thursday. A forest of bare trees standing amid a scorched landscape could be seen along with fire crews sawing up a tree stump.
In Gatlinburg, the center of the devastation, officials there hope to open the city's main roads to the public by Wednesday.
Authorities said after following up on dozens of leads of missing people, most had been accounted for. They did not say whether they believe anyone else is still missing or may have died.
The mayor said the searches were winding down and should be completed Friday.
Nearly 24 hours of rain fell Wednesday and helped dampen the wildfires. But fire officials struck a cautious tone, saying people shouldn't have a false sense of security because months of drought have left the ground bone-dry and wildfires can rekindle.
The trouble began Monday when a wildfire, likely caused by a person, spread from the Great Smoky Mountains National Park into the Gatlinburg area as hurricane-force winds toppled trees and power lines, blowing embers in all directions.
"We had trees going down everywhere, power lines, all those power lines were just like lighting a match because of the extreme drought conditions. So we went from nothing to over 20-plus structure fires in a matter of minutes. And that grew and that grew and that grew," Gatlinburg Fire Chief Greg Miller said.
More than 14,000 residents and visitors in Gatlinburg were forced to evacuate, and the typically bustling tourist city has been shuttered ever since. At least 700 buildings in the county were damaged.
"Gatlinburg is the people, that's what Gatlinburg is. It's not the buildings, it's not the stuff in the buildings," Mayor Mike Werner said. "We're gonna be back better than ever. Just be patient."
Great Smoky Mountains National Park Superintendent Cassius Cash has said the fires were "likely to be human-caused" but he has refused to elaborate, saying only that the investigation continues. Agents from the Bureau of Alcohol, Tobacco, Firearms and Explosives are helping investigate the cause.
About 10,000 acres, or 15 square miles, burned inside the country's most visited national park. Another 6,000 acres were scorched outside of the park.
Authorities said they were still working to identify the dead and did not release any details about how they were killed.
Mattise reported from Nashville, Tennessee. Associated Press writers Rebecca Yonker in Louisville, Kentucky, and Kristin M. Hall in Gatlinburg, Tennessee, contributed to this report.