Photo Gallery
2016 wildfire season one for the books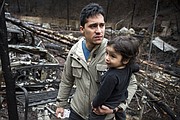 By any measure, this year has been one of the deadliest and most damaging seasons for weather disasters in Tennessee history.
A firestorm raced through Sevier County on Nov. 28, covering more than 17,000 acres, killing 14 people, displacing more than 14,000 residents and visitors, and destroying or damaging 2,460 homes and businesses.
It was just the finishing touch on a two-month series of fires that burned through 44,027 acres in Tennessee and more than 300,000 acres in the South.
Read more at our news partner's website, knoxnews.com.
Wildfires at a glance
› The Tennessee Division of Forestry states 1,427 fires burned across 44,027 acres this year.› Gov. Bill Haslam has called the Sevier wildfire "the worst in a century in Tennessee."› Fifteen total people died in the Southeast fires — 14 in Sevier County, one in Mississippi.› Totals released Friday on the Sevier County fires showed a cost of $5,916,962 for Chimney Tops fire.
Online
U.S. Forest Service's South Area Coordination Center: gacc.nifc.gov