Photo Gallery
Tinsel and Tutus @ Reynolds Performance Hall — 12/12/13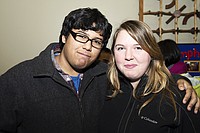 12/12 — The Conway Symphony Orchestra entertained with Christmas music, including highlights from The Nutcracker performed by the Arkansas Festival Ballet.
The sixth lawsuit filed in connection with the deadly Woodmore Elementary School bus crash points its finger at a new target - the bus manufacturer itself.
Thomas Built Buses, of North Carolina, manufactured an "unreasonably dangerous and defective" vehicle whose window system failed to keep children from ejecting during the Nov. 21 crash on Talley Road, according to the lawsuit.
"There were safer alternative designs," says the lawsuit, which attorneys filed Friday in Hamilton County Circuit Court. "Specifically, a window system with embedded glass to minimize contact with the roadway."
Attempts to contact Thomas Built Buses on Tuesday were unsuccessful.
The Cox Pradia Law Firm, based in Houston, and Chattanooga attorney Luke Neder worked on the litigation. Like the five other civil lawsuits, Friday's asks that Durham School Services and its 24-year-old driver, Johnthony Walker, be held liable for the crash.
Durham was negligent in its hiring practices, while Walker was negligent about providing safe transportation, the lawsuits say. Since 2007, Durham has provided the majority of buses and drivers for Hamilton County. Through a communications spokeswoman Tuesday, the private Illinois-based company declined comment on any pending litigation.
Friday's lawsuit is different because it's the first for a child who died in the accident.
Since Zyanna Harris, 10, experienced a wrongful death in the crash, her family should be compensated for physical and emotional pain, the loss of companionship, and funeral expenses, the lawsuit states. In total, the suit calls for $5 million in compensatory damages and $500,000 in punitive damages.
"This has caused and will continue to cause severe emotional and psychological pain," the suit says, adding that the economic value of Harris' life has been extinguished forever.
Though Friday's lawsuit demands a multi-million-dollar judgment, it also muses on the issue of jury caps. During civil litigation in Tennessee, a plaintiff can earn only $750,000 for noneconomic damages such as pain and suffering. But that rule, Harris' attorneys wrote, is "arbitrary, not based on quantifiable or objective factors, and is an unconstitutional interference with Plaintiff's rights to have a jury quantify their noneconomic damages."
Records show nearly all lawsuits filed against Durham in Hamilton County Circuit Court have resulted in settlements, the amounts of which often were confidential.
Contact staff writer Zack Peterson at zpeterson@timesfreepress.com or 423-757-6347. Follow him on Twitter @zackpeterson918.