Photo Gallery
Tinsel and Tutus @ Reynolds Performance Hall — 12/12/13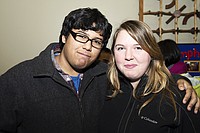 12/12 — The Conway Symphony Orchestra entertained with Christmas music, including highlights from The Nutcracker performed by the Arkansas Festival Ballet.
One month after the fatal Woodmore Elementary School bus crash, a federal class-action lawsuit claims Hamilton County Schools, district Transportation Supervisor Ben Coulter and Durham School Services failed to take reasonable precautions to prevent the tragedy.
The school district, Coulter and Durham School Services received complaints about the bus driver, 24-year-old Johnthony Walker, before the Nov. 21 crash but did nothing to protect the 37 students who continued riding his bus, according to the lawsuit filed Wednesday in U.S. District Court here.
"This horror was foreseeable, predictable and preventable," the lawsuit claims.
Attorney