Photo Gallery
Zack's Place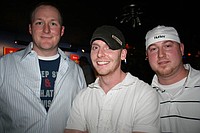 In addition to the regular darts, pool, drinks and fun, a few people tried out for the "Karaoke Idol" contest hosted by DJ Debbi T.
Federal and state authorities are sweeping up suspects today in what they call the dismantling of a multimillion-dollar drug trafficking organization.
Local agencies including the Calhoun and Chatsworth police departments, Murray and Cherokee county sheriff's offices and Conasauga Safe Streets Task are among the 200 officers searching search and arrest warrants today, a news release states.
The target is Horace Mayfield, of Stephens County, Ga., who the Appalachian Regional Drug Enforcement Office release said had operated a "multifaceted drug trafficking network with tentacles reaching south into Atlanta and north into South Carolina."
Mayfield and some 26 others will be charged under the federal Racketeer-Influenced and Corrupt Organizations (RICO) Act, the release stated. The ring is responsible for at least 72 kilograms of cocaine, 15 kilos of methamphetamine and 50 pounds of marijuana with a street value of $9.5 million.
The 10-month investigation involved dozens of cooperating agencies including the Appalachian drug enforcement offices' multiple counties; the Georgia National Guard drug task force, the state's Department of Public Safety and Georgia Bureau of Investigation, among others.
Though the initial roundup involves 20 search warrants and 27 arrest warrants, the investigation continues and more arrests are expected, according to the release.