Photo Gallery
Legislature gears up for broadband battle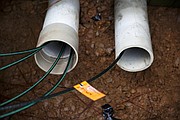 We don't need to be in any rush to make a judgment.
Municipal broadband in Tennessee
› EPB in Chattanooga› Clarksville Department of Electricity› Tullahoma Utilities› Jackson Energy Authority› Morristown Utility Systems› Bristol Tennessee Essential Services› Pulaski Electric System in Pulaski
A solution for some, but not a solution for all, is not the way we want to go.
Dr. Terry Forshee lives only a few miles from America's fastest broadband service.
But when the Cleveland, Tenn., pharmacist needs a reliable Internet connection, he has to leave his south Bradley County home and drive to his pharmacy store in Cleveland.
"I've been waiting for 27 years for Charter Spectrum, AT&T or somebody to come to me," said Forshee, who said the lack of residential broadband service is hurting his effort to build a national obesity education business.