Photo Gallery
DJ Icey @ Rev Room — 10.14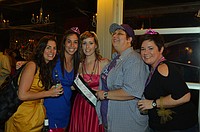 Electronica artist DJ Icey started creating music, pioneering the Florida Breaks genre with his broken beat, bass heavy sound after hearing The Edgar Winter Group's "Frankenstein." DJ Icey played a Friday night show at The Rev Room with opening acts Fresh Millions, Jared Lawler, Justin Sane vs. Balance and Spencer RX.
Soon after finishing the Chattanooga half marathon with a 7:44-mile pace in March, Nathan Sexton said his father was surprising him with a July trip to California to run in the Napa to Sonoma Wine Country Half Marathon.
Sexton said he intended to run that race even faster, though the months between would certainly hold grueling medical treatments in his battle against stage four brain cancer.
Doctors told him the cancer they found last summer carries an average life expectancy of 15 months. But even as the one-year anniversary of his diagnosis passed last month, the 29-year-old Signal Mountain man persisted in his ambition to finish the Napa to Sonoma event with a seven-minute mile pace.
Sexton nailed his goal, finishing Sunday's half marathon 50th out of 3,500 runners with a 6:58 pace and an overall time of 1:31:48.
"The thing about Nathan is that he placed 50th out of 3,500 people in the race and 11th overall in his age group," his wife, Elizabeth, wrote in an email. "You'd think he'd be so excited, right? Nathan was a tad disappointed in himself because he didn't place in the top 10. That's Nathan. He wants to be the best that he can be and won't stop until he achieves his goal."
Sexton completed the 13.1 mile course more than nine minutes faster than he did in the Chattanooga event in March.
At that time, Sexton said he was taking up running as an analogy for how to endure pain over long periods of time as he dealt with the cancer. The disease revealed itself suddenly, in the form of seizures one day in June 2015 while he was at work as vice president of special operations for Bellhops in Warehouse Row.
Running has remained a staple in his life, even as he takes part in a clinical trial at the University of Alabama at Birmingham that has brought gut-punching side effects.
He wrote on a blog last month about a particular night in Birmingham after taking a pill and receiving an infusion of a drug called Nivolumab. Pressure built up in Sexton's brain so badly he could not see more than two inches in front of his face, he wrote. Pain medicine only made it worse, causing him to throw up throughout the night.
A recent MRI showed good news, however: the tumor has remained stable or perhaps even gotten smaller.
Sexton wrote in an email Sunday that, overall, training has been easier in the clinical trial than training while on chemotherapy, but some days the pressure is too intense for a run.
"So far, it is looking like the new treatment is keeping the tumor stable," he wrote, "which is a huge answer to prayer."
Sexton has not shied away from the potential implications of his diagnosis. He wrote in a blog post last week about his admiration for his wife "having to deal with the anxious thoughts of me possibly passing away, which I maintain is harder than the position I am in."
He also wrote a June article for medium.com about how he is handling his role as a father to 2-year-old Jack while dealing with cancer.
"I'm making Jack a private YouTube channel to watch when he gets older, with videos about things like good manners, solid relationships, hard work, how to treat girls, my recent love of distance running, his faith, and more," Sexton wrote. "I still remember my Dad taking me on a "guy's trip" to hike Mt. LeConte in the Smokies when I was young. I was so excited to have some bonding time with him, and I hope Jack feels the same about these videos."
Sexton and his father, Buddy, got some bonding time again Sunday, though not much of it came on the race course.
Buddy Sexton, a Knoxville resident, finished the race in 2:24:54 and called it a "dream come true."
"I had missed his Chattanooga Half Marathon, so I told him that if he felt up to it that we would run the Napa to Sonoma Half Marathon together. And, by God's mercy and answered prayers, we did!" he wrote in an email.
"We simply had the most wonderful time together just making some great memories leading up to, running and following the race. As a dad, it just doesn't get any better. I've had the time of my life and am so, so very thankful for every moment of it."
Of course, Sexton is eyeing his next race. He is planning to run the Rock/Creek StumpJump in Chattanooga on Oct. 1.
"If that goes well," he wrote, "I want to run the Lookout Mountain 50 Miler in December."