Forecast
TODAYHot, humid with chance of thunderstormHigh: 95Low: 74WEDNESDAYHot, humidHigh: 95Low: 73THURSDAYVery hot, humidHigh: 97Low: 72FRIDAYHot, humidHigh: 97Low: &3SATURDAYHot, humidHigh: 97Low: 94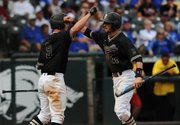 After weeks of already sweltering heat and dry conditions, a massive weather pattern meteorologists are referring to as a "heat dome" is set to cover the nation over the next several days.
Forecasters are expecting what may be the highest temperatures of the summer, with parts of the country from Arizona to Wisconsin looking at record heat indices that could reach a scorching 120 degrees.
The root cause of the heat wave is a high-pressure system beginning to anchor over an immense swath of the country, trapping and heating the air while preventing any cooling precipitation.
"In layman's terms, it's just an area of high pressure that happens to be over the south-central United States and extends not only far north, but east," said Anthony Cavallucci, a meteorologist for the National Weather Service in Morristown, Tenn.
The effects of that system are clear skies, soaring temperatures and lots of humidity.
The thermostat may only read in the upper 90s, but with all the moisture in the air, it will feel significantly hotter thanks to the heat index - how hot the weather actually feels because of humidity.
"A lot of times in the winter we get in this kind of wet pattern, which would be a trough of low pressure. This is the opposite of that," Cavallucci said. "It's just one of those patterns that we have to deal with in the summer that makes things kind of miserable."
WRCB-TV Chief Meteorologist Paul Barys agreed, saying the pattern is a function of the upper atmosphere, and with such high pressure, there is little chance for the heat wave to break this week.
"The chance for rain is going to be slim," Barys said, "[But] it's going to feel real, real steamy."
However uncomfortable it might be to sweat through such a heat wave, he said such temperatures aren't unheard of, or even uncommon.
"It's summertime and it's in the South. It's almost always like this. It's rare if it's not like this," he said.
Fortunately for Chattanoogans, while temperatures will be higher than normal for July, the Scenic City is only on the fringes of the heat dome threatening to broil America's heartland.
"Thankfully, the southern Tennessee Valley will not see a 120-degree heat index," Cavallucci said.
Temperatures will verge on 100 early this week, with a heat index nudging its way up to 103 degrees at its hottest today and tomorrow. Cavallucci said those numbers are manageable, albeit uncomfortable, but 105 degrees is when conditions become dangerous.
Certain people are at a greater risk of heat-related illnesses and should take precautions to stay cool, he said, specifically, "the really young kids 2 years of age or younger and the elderly, because they can't regulate their body temperatures like the younger folks can."
"Heat-related illnesses will become a problem, probably through at least Wednesday of this week. And it looks like Thursday, too. And Friday. And Saturday," he said.
The predictions are concerning enough that CHI Memorial issued a warning about the dangers of heat waves and how to prevent illness, especially after exercise or labor outside.
"Heat-related illnesses can be prevented," said Dr. Owen Speer. "You don't have to stop exercising when the heat is on. Just be smart and take precautions."
Speer encouraged people to drink plenty of fluids before and after physical activity and try to limit heavy exertion to the morning or evening when temperatures are lower.
If dangerous heat-related symptoms like nausea, dizziness or low-blood pressure start to show up while exercising, he said, "fan yourself. Use wet towels on your neck or forehead. Go inside or into a car with air conditioning. Take a cool shower, spray yourself with a hose, or jump into a pool."
But people aren't the only ones affected by the heat.
Bob Citrullo, the executive director of the Humane Educational Society, said this part of the summer is always hard on local animals, even when they aren't trapped under a heat dome.
He cautioned against leaving animals in cars, but went a step further and said they should probably be brought inside during extreme weather.
"A lot of time people will leave animals outside. Sometimes all day with no shelter. No water," he said. "Get them out of this heat."
Citrullo emphasized that the animal's shelter should allow it to have adequate air flow, be out of the sun and have access to fresh, clean water. And if you're going for a run and you're planning on bringing a furry companion, he said to do it in the morning to avoid burnt paws.
"We run in tennis shoes or sneakers. Animals only have their pads," he said.
Contact staff writer Emmett Gienapp at [email protected] or 423-757-6731.