Photo Gallery
Puzzles for October 26th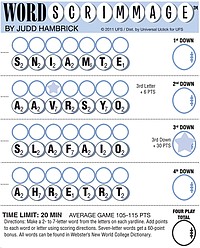 Sync puzzles and answers for Oct. 26th
Photo Gallery
Puzzles for October 19th
Sync puzzles and answers for October 19th
NASHVILLE - Though the Republican National Convention's first two days focused largely on political "red meat" for GOP voters, U.S. Sen. Bob Corker of Tennessee said he hopes presidential nominee Donald Trump also will begin laying out a "positive vision for the future."
The former Chattanooga mayor said Tuesday he believes Republicans largely will coalesce around the billionaire former reality star when faced with a "binary choice" between Trump and Democrat Hillary Clinton.
But, Corker added, "I think independent voters, as they always do, will make a big difference here."
"I think to the extent that Trump can be humanized, I think to the extent he can to lay out more concrete policies and [create] a vision for the future and a positive vision for the future, it's very important," Corker said.
The senator's comments came on the second day of the four-day convention in Cleveland, Ohio. A number of congressional leaders and Trump family members were slotted to take center stage Tuesday night.
He said much of the contest with Clinton so far has "been about [being], against the other side, that's unfortunate. It's just where our country is right now."
But Corker, who at one point was under consideration as Trump's running mate before he took himself out of the running, continued to press the idea of offering something positive.
"I think that an important element is making the case for why people should vote for you and what the country will be like if you're elected and those things that you put in place that affect people on an everyday basis," Corker noted.
Tennessee Gov. Bill Haslam voiced similar concerns to The Tennessean.
"Here's my fear: Whoever wins on that Wednesday morning in November, I'm afraid they're going to go into office, at that point and time, the most unpopular newly elected president in history," Haslam told The Tennessean." That person's going to have to figure out how to have a message that pulls people out of where we are now."
U.S. Sen. Lamar Alexander, R-Tenn., told The Tennessean, "We always want a president who can bring out the best in us, and I think that's what the general election should be about.
"The more Donald Trump talks about what's good about the country and the more he brings out the best in it, rather than the worst in it - there are plenty of people doing that - I think we want a president who brings out the best in our country," said Alexander, who ran unsuccessfully for the GOP's presidential nomination in 1996 and 2000.
Contact staff writer Andy Sher at [email protected] or 615-255-0550. Follow on Twitter @AndySher1.