Photo Gallery
Brian K. Smith Workhouse breaks ground in Bradley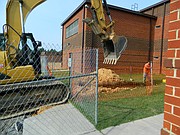 CLEVELAND, Tenn. - Bradley County has launched construction of a work-release facility for county prisoners and named it in honor of Chief Deputy Brian Smith, a veteran law enforcement officer and former county commissioner.
"This is a great honor for me and my family," Smith said Friday. "A lot of hard work went into the planning of this facility and I can't say enough about the people who took the idea of a workhouse all the way to where it is now."
Smith credited Bradley County grand jury foreman Alvin Word, Misdemeanor Probation Director Richard Kienlen, 10th Judicial District Attorney Steve Crump, Public Defender Richard Hughes and several current and former county commissioners for turning the workhouse vision into reality.
The $3.1 million facility will house up to 128 nonviolent, low security inmates who will leave for work during the day and pay a fee for housing. The workhouse, located at the Bradley County Judicial Complex, will include probation offices and spaces for lease, according to the Bradley County Sheriff's Office.
County commissioners voted unanimously in favor earlier this month when Commission Vice-Chairman Jeff Yarber proposed it be named the "Brian K. Smith Workhouse Facility."
"I can't think of a better individual" to honor in this way, Yarber said on Friday, citing Smith's 30 years of law enforcement service and commitment to the workhouse concept.
County leaders have discussed the workhouse idea for at least 10 years, Yarber said. Smith served as the first chairman of the workhouse committee, formed in 2012, and stayed on until he finished his second term as a county commissioner in 2014.
In August 2015, the Bradley County Commission voted to go forward with a 108-bed workhouse, but subsequently funded the larger facility in May and awarded the construction contract to Tri-Con Inc.
Earlier this year, Sheriff Eric Watson appointed Alan Walsh, a 32-year veteran of the Corrections Division, as workhouse superintendent.
"I'm thankful that the county commissioners put trust in my office to oversee the workhouse," Watson said in a text message Friday.
Watson has said he expects the workhouse will operate on a "revenue-neutral" basis and pay for itself while freeing up bed space in the jail.
Yarber praised alternative sentencing as a way "not have to warehouse inmates and let them earn their keep" as well as supporting their families, which should lead to lower recidivism.
The program is a long-term commitment and the community will not see its full impact for 20 to 30 years, he said.
Construction is projected to be complete by the fall of 2017, Watson said.
Contact staff writer Paul Leach at 423-757-6481 or pleach@timesfreepress.com. Follow on Twitter @pleach_tfp.