Photo Gallery
Brian K. Smith Workhouse breaks ground in Bradley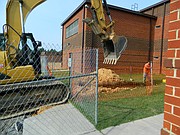 CLEVELAND, Tenn. - Bradley County has launched construction of a work-release facility for county prisoners and named it in honor of Chief Deputy Brian Smith, a veteran law enforcement officer and former county commissioner.
"This is a great honor for me and my family," Smith said Friday. "A lot of hard work went into the planning of this facility and I can't say enough about the people who took the idea of a workhouse all the way to where it is now."
Smith credited Bradley County grand jury foreman Alvin Word, Misdemeanor Probation Director Richard Kienlen, 10th Judicial District Attorney Steve Crump, Public Defender Richard Hughes and several current and former county commissioners for turning the workhouse vision into reality.
The