Photo Gallery
Chelsea Clinton through the years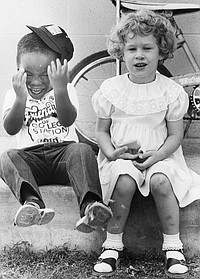 NASHVILLE - While former Vice President Al Gore is skipping this week's Democratic National Convention in Philadelphia, the Tennessean on Monday endorsed expected nominee Hillary Clinton for president.
"I am not able to attend this year's Democratic convention, but I will be voting for Hillary Clinton," Gore said in a statement.
Gore, who famously lost his home state in his 2000 presidential contest only to lose the race and presidency to Republican George W. Bush in Florida, said his decision was based on Clinton's "qualifications and experiences."
Moreover, said Gore, who has fashioned a post-political career as an environmental activist warning of global climate change, "given the significant challenges facing our nation and the world, including, especially, the global climate crisis, I encourage everyone else to do the same" in voting for Clinton.
A former Tennessee congressman and senator, Gore served as vice president under the expected nominee's husband, former President Bill Clinton, from 1993 to early 2001.
When it became clear that Gore, an uncommitted "super delegate," would be a no-show at Democrats' convention in Philadelphia, his spokeswoman told The Tennessean newspaper that unspecified "obligations in Tennessee" would prevent him from attending.
The former vice president did not endorse Hillary Clinton in her 2008 Democratic primary with Barack Obama. Nor did he endorse Clinton in her 2016 primary with Bernie Sanders. Gore spoke at the 2004 convention for Democratic nominee John Kerry and in 2008 for Obama. Gore didn't attend the 2012 convention.
While Gore stays away, two other Tennesseans have convention roles:
* Marisa Richmond of Nashville, a transgender woman and history professor at Middle Tennessee State University, has been named as the convention's official podium timekeeper.
In that role, Richmond will be on the stage and try to keep speakers on schedule and from overstaying their time. Richmond is a past president of the Tennessee Transgender Political Coalition and has advocated for years on LGBTQ issues at the General Assembly.
Tennessee Democratic Party Chairwoman Mary Mancini said Democrats "have chosen a great leader, advocate and Tennessean" for timekeeper, calling Richmond a "shining example of what makes Tennessee and the Democratic Party the party of the people."
* The only Tennessean with a speaking role at the convention is state Rep. Raumesh Akbari, D-Memphis, who was given a prime spot on Thursday. It's the same day that U.S. Sens. Elizabeth Warren, D-Mass., and Al Franken, D-Minn., speak.
Akbari, who is black, was first elected in 2013. An attorney who has earned high marks from colleagues for her speaking abilities in the state House.
* Chattanooga Mayor Andy Berke, a one-time Democratic state senator and delegate, is expected to be the Tennessee delegation's speaker at their Thursday morning breakfast.
Contact staff writer Andy Sher at asher@timesfreepress.com or 615-255-0550. Follow on Twitter @AndySher1.