Photo Gallery
Boyd-Buchanan, Van Buren girls advance to 3-A title game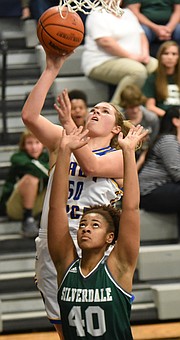 The difference between advancing and elimination for the Boyd-Buchanan girls' basketball team came down to the mindset of five seniors. Knowing that a loss would not only end the season but the seniors' prep careers, the Lady Bucs continued their torrid pace with a 54-40 win over Silverdale Baptist in Monday's Region 3-A semifinals at Arts & Sciences.
"We just have it in our minds that we don't want to go home yet," said Lady Bucs senior post Maddie Wright, who had a game-high 28 points. "We watched our boys' team lose over the weekend, and we talked about how we didn't want that to be us.
"We're at the point where we'll do whatever it takes to win and keep going."
The Lady Bucs will face Van Buren County in Wednesday's championship game at 7 p.m., also at CSAS. Van Buren beat Marion County 73-38 in Monday's nightcap, led by Miss Basketball finalist Lakelyn Bouldin's 20 points.
After losing twice to Silverdale (23-7) during the regular season, Boyd-Buchanan (22-5) registered its second straight win over the Lady Seahawks, the 16th win in the last 17 games, and extended its season by at least two more games. The region champion will host a sectional Saturday while the runner-up will travel.
After a Megan Lewis 3-pointer just before the first-quarter buzzer tied the game, the Lady Bucs used a 5-0 run just before halftime to take the lead for good. They continued to build on their advantage early in the third quarter and maintained control throughout the second half.
Wright scored 12 of her points in the third quarter and Boyd-Buchanan made 17 of 24 second-half free throws. Leading by six early in the fourth, the Lady Bucs milked more than a minute off the clock before Meredith Balthrop hit her only 3-pointer of the game. The lead never dipped below nine the rest of the way.
"We talked about how important the first two minutes of the second half would be," said Lady Bucs coach Tracey Walker. "I thought we did a nice job of recognizing they were getting tired, so we just kept pushing the pace.
"Getting that win last week (in the district tournament) probably helped our confidence. That's part of the mental battle. But having five seniors that are still in it mentally is really big. They've come together at just the right time and are not ready for it to end, so neither am I."
Van Buren (26-4) began taking command in the second quarter and continued pulling away in the second half as four Eaglettes finished in double-figure scoring.
Contact Stephen Hargis at shargis@times freepress.com or 423-757-6293. Follow him on Twitter @StephenHargis.