Photo Gallery
Debut Chattanooga Marathon runs smoothly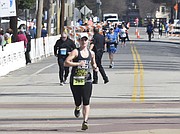 Sunday's inaugural Chattanooga Marathon wasn't quite a marathon after all.
A misplaced turnaround marker in St. Elmo left the race course 0.28 miles short, a mistake race officials acknowledged publicly on Wednesday after first learning about it Sunday night.
"Basically, what it boils down to is we certified the course, and then when we went to lay it out there was a human error that did not play in our favor, obviously," Chattanooga Sports Committee President Tim Morgan said.
The mishap is significant because it invalidates the times of any of the 529 full marathon finishers who hoped to use their Sunday performance to qualify for elite events such as the Boston Marathon.
In most cases, the race director of an invalidated race must seek waivers on behalf of participants wishing to use their times to qualify for future races, said Scott Bush, director of communications for Running USA.
Brian Myrick, Chattanooga Marathon race director, deferred comment to Morgan on Wednesday.
Morgan said the Marathon Planning Committee is working with the Boston Athletic Association and the company that timed the race to "come up with the best option moving forward."
The error comes on the heels of a similar mishap in October's 4 Bridges Half Marathon, which left that course 0.6 miles short.
USA Track and Field sanctioned and certified Sunday's race. But the error happened locally when the turnaround was placed two blocks too soon.
"A lot of newer races get this wrong, and they deal with the repercussions of it and they have to move on and learn from it," Bush said. "We see that quite a bit. If you look around the country, it seems like almost every week there's some type of issue somewhere popping up within the United States where the course was short or long."
Sunday's half marathon, which drew 1,601 participants, was unaffected.
Race officials hope the Chattanooga Marathon can one day draw 10,000-plus competitors as a marquee event that showcases the city.
Running experts say it is difficult to gauge how the course error might affect the young event's reputation.
"I think it will a little bit," Bush said. "If they come out and they're being transparent and apologetic, I think that provides enough goodwill in the running community to where, if they put on a good race experience overall, people will come back.
"People ultimately crave having good race experiences, and the length of the course only matters for a certain percentage of the people. If you apologize to those folks and express your gratitude for them coming to your event, I think people are understanding of that."
Aside from the 0.28-mile mistake, Sunday seemed to go smoothly with nearly 3,000 runners participating in the full marathon, marathon relay, half marathon and 5K.
Local bands playing live sets sent music drifting through the First Tennessee Pavilion, where racers and spectators mulled through a race expo and munched on a bevy of food options.
Sunny skies and mild temperatures provided ideal weather conditions, and a public address announcer shouted the names and hometowns of finishers throughout the morning and into the afternoon.
"The event was put on flawlessly otherwise," said Alan Outlaw, owner of Fast Break Athletics, a race sponsor. "There's a small percentage of people who would be frustrated and upset. But in the end, everybody ran the same distance."
Jay Nevans, race director of the 4 Bridges Half Marathon and 7 Bridges Marathon, knows the pain that Chattanooga Marathon organizers are feeling all too well.
He spent the week after the 4 Bridges Half Marathon responding to emails and Facebook inquiries from upset runners. That miscue came when police drew a traffic plan based on a previous year's course and race officials failed to correct it.
Nevans ultimately took responsibility for the error and made amends by offering 4 Bridges runners half off this year's event. He ran in Sunday's half marathon.
"I don't think it diminishes anyone's accomplishments," he said of the course miscue. "I think they put on a great event. There are a billion details and it's hard to catch every single one of them."
Marathon winner Bob Adams said the invalidated results do not affect him significantly. The Boston Marathon veteran did not plan to use the results to qualify for any other events and said he will likely run the event again next year and try to defend his title.
Morgan said the Marathon Planning Committee will apply more resources in marking the course in future years.
"We're owning it," he said. "We're not passing the buck and blaming anyone else. We're doing what we have to do to correct it and learn from an unfortunate incident."
Contact staff writer David Cobb at dcobb@timesfreepress.com or 423-757-6249.