Photo Gallery
Heritage students display leadership and friendship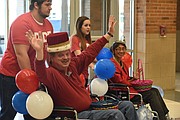 When Heritage High School football coach E.K. Slaughter and faculty member Shannon Roddy started an elective class on leadership in January, their goal was to benefit individual students and possibly the school at large.
"We already had a Leadership Academy class, something students were nominated for," said Roddy, who is also a media specialist for the school. "But we wanted something that all the students could take, something to help them realize their potential."
Those in the class believe it's achieving its goal. But after Thursday afternoon's schoolwide assembly, cafeteria worker Adelina Corle and custodian Bobby Hunt could be forgiven for thinking it's the greatest class ever created for friendship.
With the Heritage band playing, the gym filled with banners and signs and more than 1,400 smiling faces, the leadership class presented Corle with a round-trip plane ticket to see her daughter, sister and grandchildren in the Philippines for the first time since she left them in 2000.
Then they handed Hunt a 55-inch television so he and his 87-year-old mother, Dean, could better enjoy the shows they watch together each night.
"I started crying," Corle, 62, said by phone Thursday afternoon. "I love the students and they love me back. I really didn't know what to say. I was just shocked that anyone would do this for me."
Said Hunt, 55, "They went all out, didn't they? I wasn't expecting nothing like that. It's just a really good bunch of kids."
The class began after Christmas break with about 20 students who wanted to sharpen their leadership qualities.
Sixteen-year-old junior Reagan Christol, a promising tennis player, was one of those who helped raise the money for Corle's airfare.
"It's made me a more positive person," she said. "It's made me a better person. It's the best part of my day."
Keonna Moseley, a 16-year-old sophomore, said, "We get to help people, make an impact on their lives. Ever since the leadership class started I've watched homeless videos. I want to help the homeless find shelter."
Then there's Kurt Bacha, a senior who hopes to attend the Naval Academy, VMI or the Merchant Marine Academy. On Tuesday he wore a "Dude. Be nice" T-shirt, which recognizes an organization that nationally promotes the same ideals as Heritage's leadership class.
"We're trying to recognize people who aren't typically recognized," he said of the class's weeklong celebration of those too seldom celebrated. "We watched videos about this and figured we could do the same, or maybe something better."
So when this week began, they invited teachers or campus workers such as Corle and Hunt to their classroom each morning for breakfast and a personal gift. They watched a four-minute video the class had produced featuring interviews with people telling the invitee how much he or she was appreciated.
One of those folks, cafeteria worker Connie Norman, said afterward: "It was fantastic. I've been here eight years and I can't remember anything like this ever being done before. I think all schools need something like this to make people feel special."
Both Slaughter and Roddy are quick to heap the praise for all this kindness on the students.
"We facilitated it," said Slaughter, "but they took the lead. We think Cleveland (Tenn.) High School and a couple of other schools have done this in Tennessee, but we think we're the first to try it in North Georgia. It's a diverse group, but they all have really good parents."
Roddy noted that the school's leadership academy has done its own amazing work, everything from handing out teddy bears to children in hospitals to building a Habitat for Humanity house. But this class has reached a wider audience.
"This generation of kids spends so much time staring into a screen, whether it's their phone, their iPad, whatever," she said. "They're losing soft skills, the ability to communicate with others on a social level. We're trying to teach them the value of working with others."
Thursday was certainly an extraordinary start. Corle is already planning to visit her sister, Virginia, her daughter, Rowena, and two grandchildren in the Philippines. The woman the Heritage kids call "Ling Ling" and "Chicken" also hopes to return through Canada so she might see her son, Fernando, and his four children.
Hunt, who also takes his mother to the hair salon once a week, can't wait to hook up the television and settle in with her for reruns of the 1960s Western "Gunsmoke" because, in his words, "I'm an old-fashioned guy."
Citing what some might label an old-fashioned value, Bacha said of the students' decision to single out Corle and Hunt: "They constantly try to make your day better."
On Thursday, the Heritage's leadership class returned the favor.
Contact Mark Wiedmer at mwiedmer@timesfreepress.com.