Photo Gallery
Fatal flood graphics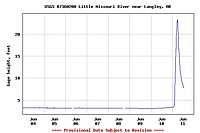 The Chattanooga Lookouts won the Southern League championship last summer in their first season as Class AA affiliates of the Minnesota Twins, yet they looked more like the Los Angeles Dodgers.
In 2016, the Lookouts will look like the Lookouts of old.
Team owners Jason Freier and John Woods were in Chattanooga on Wednesday to unveil the new team uniforms, which do not resemble the Dodgers or the Twins. The home and road uniforms have a similar look to when the team was paired with the Cincinnati Reds from 1988 to 2008.
"It's a clean look and a classic look," Lookouts president and general manager Rich Mozingo said. "It's very similar to what we've had in the past.