Photo Gallery
Cataloging 100 years of Chattanooga High history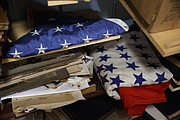 Chattanooga High School History
* 1874: Chattanooga High School founded in Masonic building on Gillespie Street* 1891: School moves to Old Academy, intersection of Gillespie and Early streets* 1897: School moves to McMillian House, 111 Gilmer St.* 1905: School housed in Dickinson Building, 413 E. Eighth St.* 1921: School moves to Wyatt Hall on East Third Street and Riverside Drive* 1963: School moves to current location, 1331 Dallas Road* 1987: School of Performing Arts began as part of Chattanooga High School, a "school within a school" magnet program for performing arts students* 1999: School renamed Chattanooga High School Center for Creative ArtsSources: "History of Chattanooga High School" by Elizabeth Kelley Wade, various Internet sites, CCA administrators
Joanne Kramer stands in a storage room above Center for Creative Arts' school auditorium, surrounded by decades of memorabilia from Chattanooga High School, the birthplace of CCA.
Open boxes reveal crumpled uniforms worn by sports teams of decades past and their tarnished trophies. Floor-to-ceiling shelving holds engraved plaques, yearbooks, scrapbooks, photo albums, class composites, flags that have flown over the school - even a Purple Heart citation.
And this is just one of three such storage rooms - dubbed The Archives - that have become the repository for more than 100 years of Chattanooga High School history. They are a treasure trove of memories that trace the storied school's metamorphosis from its 1874 founding in a Masonic building on Gillespie Street through four changes of location to the current Dallas Road site; and its evolution from neighborhood public high school to CCA in 1999, Hamilton County's creative arts magnet school.
Joanne Kramer - who appreciates history and a good challenge - volunteered to take on a spring cleaning of these rooms earlier this month.
The 79-year-old volunteer isn't an alumna, her only connection is that two of her granddaughters have been CCA students. But she operated an antiques shop in North Carolina before moving to Chattanooga to be closer to her family, so she has experience in handling old documents and preservation of collectibles. Her job now is to sort, box and catalog all of it.
"I am knee-deep in it," Kramer says, "but I like challenges, so I'm all for it."
CCA Principal Deborah Smith calls the memorabilia stored in the school archives "priceless," noting only someone with Kramer's vested interest could handle the job with the "respect and care she has given it." Smith plans to ask Chattanooga High School alumnus Doug Jones, who has been a spokesman for the school's alumni, to also help identify some of the rooms' contents.
"These are priceless items to many alumni," Smith says. "I'm not a native of Chattanooga, I don't know who all these people are in the pictures and on the plaques, but I have a great appreciation for the alums of Chattanooga High School and the memories they made while students here. I feel the importance of the legacy of Chattanooga High School. No matter what name our school is now, those memories need to remain in place.
"My hope is once this is organized, people will have the opportunity to look at the items or use some of it for display when reunions or other alumni events are held here," the principal says.
In her first 10 days in the archives, Kramer cleaned out 27 boxes. She found numerous sets of team uniforms - not just in City High's maroon-and-white team colors, but blue-and-white and blue-and-gray combinations as well. Left loose in boxes, the shorts, pants and jerseys first had to be sorted by sets, then by athletic teams, then cleaned, packed into boxes and marked by sport.
"I found a football from a game in 1939. I thought it was interesting because the football was not the usual brown, but a green color," Kramer describes. "All the balls that were saved have been from games City won, and they are signed by teams.
"There are oil portraits up there of past principals; it's interesting seeing principals back in 1900. To see a graduating class from 1900 in their long dresses was phenomenal. That's the oldest photo I've found so far. Some photos have their decades on them, some don't," explains Kramer.
Last week she started on what she calls "the music room," the second of the three storage rooms filled with instrumental and choral music as well as innumerable film reels, some of the latter shot on 8mm film, originally released in 1932 for amateur filmmakers.
Some of the music collection dates back to the years of the late A.R. Casavant, Chattanooga High's legendary band director known for developing the precision drill style of marching in the 1950s.
"Music has been taken out of their holders (boxes designed to hold all instruments' scores to one song) and is loose in the room," Kramer says. "I'm sorting sheet music by titles."
Kramer began volunteering for the school nine years ago when her first granddaughter, Brittni Rhodes, enrolled as a sixth-grader. The second granddaughter, Samantha Rhodes, is a senior.
The grandmother's volunteer hours count toward the 18 hours required annually by every family of a magnet school student in Hamilton County. But Kramer far surpasses what's mandatory, according to Dawn Schierschmidt, CCA volunteer coordinator.
"She has volunteered 138 hours during this academic school year, and she has more than 100 hours for every one of her years here," says Schierschmidt.
Kramer also coordinates the school's boxtops collection and enrolls families in local grocery stores' booster programs. Schierschmidt says Kramer raised $814 for the school just in boxtop collections this year alone.
And just because her remaining granddaughter is graduating in May, that doesn't mean she's leaving high school, Kramer says.
"I'm there until I'm finished. It keeps me busy, it helps pass the time, and I'm doing something to help somebody."
Contact Susan Pierce at spierce@timesfreepress.com or 423-757-6284