Photo Gallery
Copper Basin's remarkable reclamation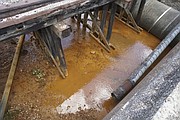 It's amazing what's been done at this site in just 15 years.
DUCKTOWN, Tenn. - Standing in the Copper Basin today feels like standing in many rural Tennessee settings: rolling hills dotted with trees and grassy meadows, ponds alive with largemouth bass.
Step back to view it from a hilltop observation deck in the parking lot of the Ducktown Basin Museum and there are a few, subtle indicators this expansive stretch of land in the southeastern corner of the state is just a little bit different than the lush landscapes elsewhere in the region.
That it no longer shows the prolific scars of its past, however, is a testament to decades of restoration efforts and a partnership of public and private agencies that recently reached a milestone agreement in the denouement of one of the nation's most remarkable acts of reclamation.