Photo Gallery
Marines, widows lay wreaths at July 16 memorial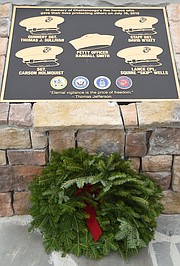 Jeff Gadd was in uniform on the morning of July 16, riding his Hamilton County Sheriff's Office motorcycle to escort a funeral procession on Ashland Terrace, when radio traffic about an active shooter began to trickle in.
The info came through: Active shooter on the riverfront.
Gadd, already blocking traffic for the funeral procession, held the intersection at Hixson Pike open so the other sheriff's deputies and police officers who were escorting the funeral could get through, and fast.
Then he sped down Amnicola Highway after them. Gadd pulled his motorcycle to a stop on the side of the highway, just outside the green fence that loops around the U.S. Naval and Marine Reserve Center.
He