Photo Gallery
Chattanooga Chase aims to reclaim past status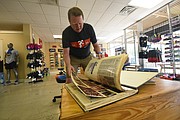 Also read...
* Runners display their patriotism during historic Chattanooga Chase * Ruhling, Stocks double up differently in Chattanooga Chase race wins
Sue Anne Brown remembers being one of only two women to run the 1971 Chattanooga Chase.
This year's Chattanooga Chase, set for Memorial Day, may feel a little bit like that one for a couple of reasons.
Though the local running scene is no longer male dominated, Brown's recent celebration of her 70th birthday means she'll once again be one of very few - or perhaps the only runner - to compete in her age and gender division.
Meanwhile, other racers will have an opportunity to pay homage to the Scenic City's running heritage, thanks to an infusion of local energy from a pair of former champions.
An 8K race on the North Shore that many local runners refer to reverently and with great nostalgia, the Chattanooga Chase is likely much older than the 49 years it's officially celebrating this year.
Nailing down the exact age of the Chase is hard. Some have traced it to the early 1900s. The race once held a lofty status within the city's running community, and organizers aim to reclaim that status this year.
"When I first moved here, in the small group of running, there was no way I was not going to run that race," Brown said. "Running was not that popular, especially with women, but the powers that be in the running community, they were all there for the Chase. It got to be more popular, more women came in, and it just grew."
Race participation peaked in the 1980s, with 700-800 runners, including former national team members and some of the fastest runners from around the region.
Fast Break Athletics owner Alan Outlaw and manager Joey Howe, both winners of the race, are tapping into that history to help guide the future of the Chase, which dipped to just over 200 participants last year between the signature 8K and accompanying one-mile run.
"It's the most challenging race in town, it's the oldest race in town, and it's the fabric of everything that's ever come to town," Outlaw said. "And unfortunately, with all the races in town now that kind of cannibalize each other, it's waned in popularity."
Brown brought a scrapbook full of newspaper clippings from the past five decades that she's assembled to Fast Break's Cherokee Boulevard location to help Outlaw and Howe reasearch the history of the race.
They've chosen a retro logo from the race's past for promotional materials and race T-shirts and have lengthened the course just a smidge, so that the course known for its hills is more precisely 8 kilometers.
The Chattanooga Track Club-supported race is also bringing on Chattanooga Whiskey, Good Dog, Rock/Creek and Chattanooga Brewing Co. as sponsors.
The first runner to reach the top of the race's signature hill on Minnekahda Avenue will earn a Rock/Creek gift card.
"Nowadays, the running community is kind of splintered up and factioned out," Outlaw said. "People want to kind of do their own thing, and you end up with poor participation. We don't expect there to be insane numbers for this race, but we do think if we can increase participation by 10 or 20 percent over last year that it would be awesome, and then we can build it from there. It's something we think is important."
Howe, who was featured in a Chattanooga News-Free Press photo after his 1992 Chattanooga Chase victory, said he's seen many 8K races come and go in Chattanooga.
"I can't think of any that were here 10 years ago, let alone 48 years ago," he said. "A lot of the runners will end up going to Knoxville or Huntsville, because they've got these big Memorial Day runs.
"It sure would be nice to have a run in Chattanooga, a classic run like this, where those people would actually come from Knoxville or Huntsville, or wherever and come in here to run this event because of its status."
Contact staff writer David Cobb at dcobb@timesfreepress.com or 423-757-6249.