Photo Gallery
Early voting in Hamilton County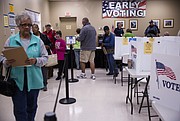 President
Vote for Hillary Clinton.
She knows the weave of balance, cooperation, compromise and - yes - honor.
She's also a great listener, a well-prepared planner, trustworthy executive and hard-worker who has shaped coalitions, hammered out agreements, built consensus.
"I sweat the details of policy - whether we're talking about the exact level of lead in the drinking water in Flint, Mich., the number of mental health facilities in Iowa, or the cost of your prescription drugs. Because it's not just a detail if it's your kid - if it's your family. It's a big deal. And it should be a big deal to your president," she said when she became the Democratic presidential nominee in July.
That's why she's been the moral glue of shaping health care policies that ended insurers' exploitation of pre-existing conditions, and the threader of slender needles to stitch better foreign alliances.
She won two terms as a senator from New York, and twice has been a presidential candidate. She mended fences with a presidential opponent to become a secretary of state who negotiated global agreements when we were re-learning foreign policy as post-2001 terroristic realities began to emerge.
She champions middle class values with proposals for equalizing the tax codes and closing corporate loopholes, raising the minimum wage, reining in Wall Street, furthering affordable health care, guiding us to sensible gun safety, improving education and keeping us safe in an ever-more-complex world.
She is the right and rational choice against an opponent who represents a dark door for America - a dark door even to the Republican Party that created him and lost its soul to empty suit and reality TV king Donald Trump. Trump brags of groping women, exploiting U.S. tax and bankruptcy laws, insulting immigrants and admiring Russian president and former KGB leader Vladimir Putin.
Trump has been married three times, bankrupted six businesses and left countless workers and contractors unpaid each time. Meanwhile, Clinton has traveled to 112 countries and negotiated a peace deal, a cease fire, a release of dissidents and opened new opportunities in nations around the world.
The multiple Republican witch hunts that followed the tragedy of Benghazi found no Clinton wrongdoing and resulted in the waste of about $30 million to taxpayers. The email questions raised by those fishing expeditions also have gone nowhere. Clinton, nonetheless, has acknowledged that using her personal email account and server was a mistake, and she has apologized.
Now a new smear 11 days before the election by FBI Director James Comey, a Republican, over the objections of the Justice Department are just that - a new smear.
No matter how much the GOP might want to paint Hillary Clinton otherwise, she is trustworthy, capable and full of heart.
Give her your support.
Third District
Vote for Melody Shekari.
In an election season when voters are tired of a do-nothing Congress, Melody Shekari offers an antidote to incumbent grid-locker and Republican, Rep. Chuck Fleischmann. She is a 28-year-old attorney with a master's degree in public administration and a burning desire to be part of the solution to broken government.
She would work to close corporate tax loopholes, raise the minimum wage, improve the Affordable Care Act, find sensible compromises on gun rights and gun safety, invest in infrastructure and grow the clean energy industry, especially in East Tennessee. All of those things, she notes, would boost jobs and the economy.
Tennessee Senate, District 10
Vote for Khristy Wilkinson.
She is the natural replacement for Republican obstructionist Todd Gardenhire - who in his first and hopefully only state Senate term nearly single-handedly killed Insure Tennessee.
Wilkinson, 36, is an educator, community activist and mom who moved to Highland Park a few years ago as downtown began attracting new residents. She describes herself as a Bernie Democrat who supports Hillary Clinton, and she doesn't understand why Chattanooga and Highland Park don't feel as inclusive as the Detroit neighborhood where she grew up and where 17 languages were spoken. She supports universal pre-K, investing in schools, Insure Tennessee or a viable alternative to it, affordable housing and closing Tennessee's income gap.
Tennessee House, District 27
Vote Patsy Hazlewood, a Republican, to a second term. This retired assistant vice-president for legislative and external affairs for BellSouth and AT&T, former banker and former regional director for the Tennessee Department of Economic and Community Development says she is proud of her freshman work to pass a bill that allows pharmacies to offer behind-the-counter sales of birth control.
Her opponent, Democrat Steve Gordon, did not campaign and could not be reached either by Times Free Press editors or the local Democratic Party officials.
Tennessee House, District 30
Vote Marc Gravitt, a Republican, to a second term. The professional auctioneer from East Ridge says he wants to attack Tennessee's problem with opioid addiction by backing increased funding for addiction recovery and by supporting a state study for an expanded role of non-addictive medical marijuana - something that could provide a safe alternative relief for pain and illness sufferers.
Gravitt's challengers, Democrat Katie Cowley and Independent Patrick Hickey, said they chose not to actively campaign.