Photo Gallery
Wildfires continue with no rain imminent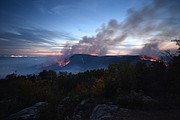 Here's our most recent story on FEMA stepping in to help battle the blaze.
UPDATE: Tri-State Mutual Aid agencies remained at the Boston Branch subdivision throughout the night, according to Hamilton County Emergency Services. Walden's Ridge Emergency Services said fire crews conducted a tanker shuttle operation by drafting water out of Boston Branch Lake and spraying 180,000 gallons of water around the homes that are endangered.
Currently, 64 residents on Little Bend Road have voluntarily evacuated.
---
Several homeowners on Little Bend Road were forced to evacuate Wednesday evening as the Flipper Bend fire on Walden's Ridge reached 780 acres and continued jumping fire breaks.
At the foot of the ridge on Dayton Pike, a team of firefighters was clearing a staging area for the night, even as the oppressive smell of the burning trees hung in the air. Tennessee forestry spokeswoman Shannon Gann said they had made a new line of breaks and were waiting to see if they would hold through the night.
According to some leaders, progress has been particularly difficult with this fire, because the dozers cannot be used on the side of the ridge. The terrain is too rough, and to make matters worse, the weather conditions are even rougher.
"It just seems to keep growing to the north," said Timothy Phelps, communications and outreach unit leader for the Tennessee Department of Agriculture.
The decision to evacuate a half dozen homes on Little Bend Road was proactive to ensure the safety and convenience of the homeowners, he said. The wildfire is still not directly threatening homes, but it could move that way if it continues to jump breaks.
Part of the difficulty, in addition to persistently dry conditions and the leaf fall that is fueling the blaze, is that the fire is hot enough to consume live vegetation, including underground roots.
Phelps said he's spoken to several veteran responders, some of whom have been fighting fires for 40 years, who said they've been blown away by the number of fires this year.
"They said they've never seen a fall fire season like this before," Phelps said.
Complicating the problem is a recurring issue of blazes intentionally being set for any number of reasons. Phelps said multiple people have been arrested this year for wildfires they set, and he said this fire is suspected to be the result of arson, as well.
He said people have started fires for all kinds of reasons ranging from thrill seeking to people who just don't want to have pine trees on or near their property.
Despite the unending string of fires starting and expanding, a brief shower hit parts of Chattanooga shortly after 8 p.m. Tuesday, bringing an unexpected glimmer of hope, but it wasn't enough to dent the blazes.
Tennessee Forestry Division crews, joined by firefighters from around the nation, also worked Wednesday to keep a Mowbray Mountain fire from spreading to nearby homes, forestry officials said.
That effort came amid a continued push to contain other fires in Marion, Sequatchie, Rhea, and Bledsoe counties.
An overnight surge in humidity did help, but officials agreed substantial rain is needed before any widespread relief is found.
"It will take sustained rainfall," said Andrea Crain, a spokeswoman for the U.S. Forest Service who has been providing updates on a 4,000-plus-acre fire in the Chattahoochee National Forest.
The fire there continued to grow Wednesday in size and complexity, covering more than 4,300 acres of the Cohutta Wilderness in rural Fannin and Gilmer counties.
It was one of several burning in North Georgia, Alabama, Tennessee and North Carolina that brought a smoke cloud into Atlanta, according to the Georgia Forestry Commission.
Skies cleared in Chattanooga on Wednesday after a two-day air quality alert, but the air quality index still hovered in the "moderate" range, meaning that unusually sensitive people were encouraged to consider reducing prolonged or heavy exertion.
Chattanooga's air quality was expected to improve to "good" today, according to the Tennessee Department of Environment and Conservation, though not because fires are burning out.
There were 55 active fires Wednesday in Tennessee, according to forestry officials.
Gann said air drops of water and fire retardant, along with man-made fire breaks, continued to be the agency's primary mode of attack Wednesday. That agency's firefighters were joined by crews from Nevada, and a crew from Florida was on the way.
A fire on Smith Mountain in Sequatchie County was the only fire Gann knew of in the Chattanooga area, other than the Mowbray Mountain blaze, that had homes nearby.
The Mowbray Mountain fire had grown to more than 230 acres by Wednesday morning according to Hamilton County Emergency Management spokeswoman Amy Maxwell.
"The Tennessee Forestry Division expressed their sincere thanks to Soddy-Daisy Fire Department, Hamilton County residents and businesses for the donations of food and water for their crews, as well as maintenance to fix any machinery and equipment needed to fight these wildfires," Maxwell said in a news release.
Seven firefighters in upper East Tennessee were trapped Tuesday evening in a forest fire in Hawkins County but made it out safely, The Associated Press reported.
Staff writer Emmett Gienapp contributed to this story.
Contact staff writer David Cobb at dcobb@timesfreepress.com or 423-757-6249.