Photo Gallery
Garden Gourmet Chef Series @ River Market — 09/14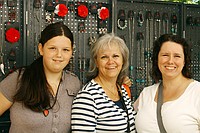 09/14 — The Chef Series presented a tasting event in which all chefs used ingredients from the Little Rock Farmers Market. Chefs represented different central Arkansas restaurants.
Angie Nunley saw First Christian Church pastor Brandon Gilvin and interrupted her 4-mile run Tuesday to join him in prayer.
She said she specifically wanted prayer for "the safety of the country."
The jogger was among dozens of people to whom Gilvin and a group of local ministers offered bottled water and personalized prayer on the Walnut Street Bridge.
Ministers also brought bubble bottles and typed blessings on strips of paper to set a fun and peaceful atmosphere.
"We're doing prayers for peace here on Election Day," Gilvin said.
Several people declined the ministers' offer and kept walking, but Nunley said the opportunity for prayer was too important to miss.
Gilvin organized the event with Northminster Presbyterian Church pastor Laura Becker to offer a peaceful outlet for those frustrated and/or suffering emotional fatigue during the presidential election.
Other ministers attending the event talked about hearing of family members at odds over the election, as well as people unfriending others on Facebook because of it.
"People have felt so divided. Everyone is attacking anybody who feels different than they do, and I think we've lost the ability to disagree respectfully," Becker said. "And so we just wanted to offer a space to remind people that there are far deeper things that unite us than divide us."
The group included Gilvin, Becker, First Christian Church associate pastor Jonathan Hyde, and Independent minister and Rock Metropolitan Community Church board member Ken Carroll.
Unitarian Universalist Church pastor the Rev. Cathy Harrington offered passersby an "An Old Irish Blessing," stating "May love and laughter light your days, and warm your heart and home. May good and faithful friends be yours, wherever you may roam."
Susan Spurgeon, 72, stood across from the ministers offering free hugs, and the crowd Tuesday was receptive. Sometimes, she said, she's ignored, and her husband thinks she's a little crazy, but she can't stop her efforts.
"Love is what's going to heal the world," she said.
Aimee Todd declined prayer on the bridge, saying she preferred praying privately, but she selected grace when First Christian Church member Gayle Mingledorff asked if she wanted a blessing for her dog.
Mingledorff came prepared with a paper inviting people to take any blessing that they needed. The paper included blessings for grace, love, comfort, healing and peace.
"We need to go back to the basics of who we are as human beings and to know and experience humility and respect," Mingledorff said. "And with that we can begin to heal, because we're terribly divided and people are so hurt now."
Contact staff writer Yolanda Putman at yputman@timesfreepress.com or 423-757-6431.