Photo Gallery
Arkansas Symphony Orchestra @ Robinson Center Music Hall — 09/22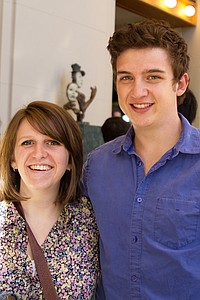 09/22 — The Arkansas Symphony Orchestra kicked off its 2013-14 season with Tchaikovsky & Rite of Spring, with Philip Mann conducting and Martina Filjak on piano.
ARSON ARREST
Details of an arson arrest will be revealed at this afternoon's wildfire briefing in Soddy-Daisy, officials say. An email from the Tennessee Forestry Division of the Department of Agriculture gave no details on the arrest, but said more information will be provided at the 3 p.m. briefing. The release said Tennessee Forestry officials will gather with leadership from the Florida Forest Service and Hamilton County Mayor Jim Coppinger across the street from Ivy Academy on Dayton Pike for updates on multiple fires burning in the Southeast. Officials have said they believe several fires were set but this is the first arrest announced.
*Wildfire preparedness tips from the American Red Cross:
Post emergency phone numbers by every phone in your home.Make sure driveway entrances and your house number or address are clearly marked.Identify and maintain an adequate water source outside your home, such as a small pond, cistern, well or swimming pool.Set aside household items that can be used as fire tools: a rake, ax, hand saw or chain saw, bucket and shovel. You may need to fight small fires before emergency responders arrive.Select building materials and plants that resist fire.Regularly clean roofs and gutters.*Plan and practice two ways out of your neighborhood in case your primary route is blocked.Select a place for family members to meet outside your neighborhood in case you cannot get home or need to evacuate.Identify someone who is out of the area to contact if local phone lines are not working.
More Info
A wildfire prevention team from the Georgia Forestry Commission is in the area and available to speak at meetings, clubs, events and other functions in north Georgia. The wildfire prevention team can be reached at northcoosafirepreventionteam@gmail.com
Some sat on their porches while others stood in their yards, arms folded and gazing toward the source of the smoke filling their neighborhood.
Others scurried between their homes and their cars with armloads of clothes and, in some cases, family heirlooms.
"I still need to get my dad's World War II uniform," one man shouted from his driveway toward a woman re-entering their house.
One of the region's many wildfires threatened homes on Mowbray Mountain's Arnat Drive and Bonnelia Circle on Thursday, causing Hamilton County Sheriff's Office deputies to go door to door issuing evacuation recommendations to residents during the middle of the day.
"I knew it was coming [Wednesday]. I started to prepare and then I thought they had it under control," Donna Abbott-Smith said as she loaded up her car.
Then, a neighbor called her Thursday morning, she said. The neighbor had a water hose and was trying to stop flames from reaching a house down the street. Later in the day came a loud knock at the door.
"It was the sheriff's department saying I needed to evacuate now," Abbott-Smith said.
By mid-afternoon a lengthy series of aerial water and fire retardant drops helped back the flames away from the homes. But a crew of three from the Soddy-Daisy Fire Department stood in the side yard of a mobile home spraying water on lingering flickers of orange while residents, caged roosters crowed nearby.
Thirty homes on the two streets were still considered endangered by early evening, but Mowbray Volunteer Fire Department chief Chris Weddington ultimately deemed it safe for residents to return to their homes overnight.
It was Hamilton County's second wildfire-induced evacuation this week as the region continues grappling with a historic drought that has provided a fertile breeding ground for an unprecedented fire season in the tri-state area.
"We always have a fall fire season. That's normal. What's not normal is the sheer number of fires we're responding to," said Timothy Phelps, communications and outreach unit leader for the Tennessee Department of Agriculture. "I've talked to a number of colleagues that say this is as bad as they've ever seen it."
Residents of Little Bend Road on Walden's Ridge were told to evacuate their homes Wednesday evening, becoming the first known wildfire-related evacuees in the county.
That fire grew to more than 1,100 acres Thursday, Phelps said.
Hamilton County Emergency Management spokeswoman Amy Maxwell said firefighters continued to be on the scene spraying water on the terrain below the homes of Boston Branch. The area was still considered unsafe Thursday night, but no structures had been damaged.
Homes also continued to be threatened by a 950-acre fire on Smith Mountain in Sequatchie County. A fire at Bench Bluff in Bledsoe County also continued to threaten structures there, Phelps said.
Fire crews from Nevada and Florida are in the area helping local crews, and the Federal Emergency Management Agency announced Thursday it is chipping in to help pay for the costs of fighting the Flipper Bend fire.
FEMA authorized a 75 percent reimbursement for managing, mitigating and controlling the fire, according to a news release from the agency.
"FEMA approved this request to ensure that Tennessee has the resources to combat this fire and protect lives, structures and property," FEMA regional administrator Gracia Szczech said in the release. "State responders will continue the hard work to fight the fire with the help of this funding."
Tennessee requested the grant last night, citing 45 threatened homes in the area.
The Tennessee Emergency Management Agency declared a Level-3 State of Emergency Thursday evening due to the fires.
Smoke returned to downtown Chattanooga on Thursday afternoon, prompting the Tennessee Department of Environment and Conservation to issue a "code orange" alert for today.
A code orange alert means that although the general public is not likely to be affected, people with heart and lung disease, older adults and children are at greater risk from the presence of particles in the air.
The highest chance of rain in the WRCB-TV seven-day weather forecast was a 30 percent chance Sunday, when there is a chance of afternoon showers.
Maxwell, from the county's emergency management office, praised locals for providing food and water to exhausted firefighters during the ongoing wildfire saga.
"When we have disasters, you really start to see how this is such a generous, generous county," she said. "We know we'll be up here for several days, and these donations really help. Thank you to all the residents and local businesses that have taken the time to drop off food, water and drinks for the firefighters that have been working tirelessly."
Contact staff writer David Cobb at dcobb@timesfreepress.com or 423-757-6249.