Photo Gallery
Reviving nuclear power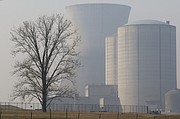 Bellefonte history
Bellefonte starts and stops* 1974 - Construction permit issued and building begins* 1985 - Construction halted on Unit 2, then 55 percent complete* 1988 - Construction halted on Unit 1, then 88 percent complete* 1992 - Engineering work resumed to prepare for restart of construction* 1994 - Stone & Webster estimates finishing Bellefonte will cost $2.6 billion. Engineering work halted* 1996 - TVA studies option of converting plant to combined-cycle, natural gas* 1998 - Gas conversion option dropped. TVA offers plant to the Department of Energy to make bomb-grade tritium.* 1998 - DOE picks existing TVA plants to produce tritium.* 2001 - Texaco proposes using Bellefonte as site for coal gasification plant.* 2001 - Chattanooga financier Franklin Haney offers to finance completion of Bellefonte as a nuclear plant.* 2002 - Texaco drops proposal. TVA turns down Haney offer.* 2004 - TVA enters into talks with other utilities and joins NuStart to pursue new plant design for site.* 2005 - NuStart picks Bellefonte as site for Westinghouse AP1000 nuclear plant. TVA withdraws construction permit for original plant.* 2006 - TVA sells stainless steel tubing, pipes at Bellefonte for scrap metal. Other equipment transferred to other plants* 2008 - TVA decides to consider reviving Bellefonte units 1 and 2* 2009 - Nuclear Regulatory Commission reinstates construction for original reactors in terminated status* 2016 - TVA decides to sell Bellefonte; Franklin Haney's Nuclear Development LLC agrees to buy the plant for $111 million.Sources: Tennessee Valley Authority, Nuclear Regulatory Commission
Bellefonte at a glance
Location: 1,600 acres between Highway 72 and the Tennessee River in Hollywood, Ala.Investment: More than $5 billion, excluding most interest and maintenance expenses incurred over the past decade and a half.Remaining debt: Most of the investment has already been written off, but $1.3 billion remains on the TVA booksWhat is on the site: Two unfinished Babcock and Wilcox pressurized water reactors, plus two cooling towers, switchyard, transmission lines and training facility and officesStatus: When TVA last considered finishing the plant, engineering studies said Unit 1 was 55 percent complete and Unit 2 was 35 percent completeOwnership: TVA owns the plant and has a construction permit with the Nuclear Regulatory Commission. Nuclear Development LLC, headed by developer Franklin L. Haney, has agreed to buy Bellefonte for $111 million within the next two years.
Franklin L. Haney at a glance
Age: 75Residence: Palm Beaches mansion in Manalapan, Fla., bought in 2000 for $22 millionOffices: Washington, D.C., and ChattanoogaEducation: A native of McMinn County, Tenn, Haney is a graduate of the University of Tennessee and the George Washington University law schoolCareer: He worked his way through college as a Bible salesman and as a legislative assistant for U.S. Sen. Al Gore Sr. After serving as assistant general counsel to the Tennessee Public Service Commission, Haney unsuccessfully ran as a Democrat for Congress in 1966 and then as Tennessee governor in 1974. He has since focused on private business, building offices, toll roads, soft drink bottling companies and other businesses. He moved his FLH Co. to Washington DC in 1994 and developed a 1 million-square-foot Portals building. His son, Frank Haney Jr., is now president of FLHPersonal: He is is married to the former Emeline Willingham and they have five grown children: Mary Alice, Mae Elizabeth, Margaret McGowan, and twins, Emeline Michelle and Franklin Jr.
HOLLYWOOD, Ala. - The Tennessee Valley Authority may no longer see a need to finish its Bellefonte Nuclear Power Plant, but Chattanooga developer Franklin L. Haney is betting he can complete the twin-reactor facility and find buyers of the power it could generate as aging coal and other nuclear plants are shut down.
Haney, a 75-year-old real estate developer who has made a fortune on other deals with government agencies, agreed Monday to pay TVA $111 million to buy the Bellefonte plant within the next two years. Through an investment group he created known as Nuclear Development LLC, Haney could become the first individual to own and operate a U.S. nuclear power plant if his venture proves successful.
Haney was the highest bidder for the nuclear plant Monday during a TVA auction that initially drew 15 interested parties but ultimately only two bidders. The purchase capped a 15-year effort by Haney to acquire the unfinished nuclear plant, which TVA quit building nearly three decades ago but only decided in May to dispose of without finishing either of its two reactors.
"Today marks the first step of an exciting new journey for the people of Alabama and Tennessee," Haney said in a statement after the auction. "The Bellefonte Nuclear Station will help transform communities across the region - many of which have been hit hard by the forced closure of coal power plants over the last decade."
Haney said he hopes to finish Bellefonte, creating between 3,000 and 4,000 temporary construction jobs and an estimated 2,000 full-time jobs once both reactors become operational.
But Haney and his delegation, which included former Alabama Congressman Bud Kramer, declined to discuss any details of their plans or outline a schedule for restarting work on the plant.
TVA directors voted in May to give up on finishing the two Babcock and Wilcox reactors here and declared the plant surplus for sale to other buyers. TVA's long-range power studies concluded the federal utility won't need the extra power that Bellefonte could generate for at least the next two decades.
But Cramer, who has worked with Haney for the past decade as a lobbyist and consultant, said Haney is confident more carbon-free power will be needed in the future.
"Mr. Haney is a smart investor and he knows what he is doing," Cramer said.
Haney offered three years ago to finish Bellefonte and sell what he said would be competitively priced power to TVA under a unique lease-back arrangement with the agency. Haney hired former TVA Chairman Dennis Bottorff and former TVA President Bill McCollum to help prepare his offer.
At the time, TVA had estimated Bellefonte could be finished for about $8 billion, which would be significantly less than the $14 billion price tag projected by the Southern Co.
Haney also was trying to capitalize on more than $2 billion of investment tax credit then available for new nuclear generation. As a public power entity, TVA does not qualify for such credits, however. TVA rejected Haney's offer and those credits have since been phased out, although Congress could reconsider such incentives for new power generation.
Haney's offer Monday gained the support of local business leaders eager for the jobs it could bring to Jackson County.
"This is great news that has been a long time coming," said Rick Roden, president and CEO of the Greater Jackson County Chamber of Commerce. "When TVA first started this project in the 1970s, we were excited, and whenever TVA has been building this plant, the local economy has been booming. It's been kind of a rollercoaster through the years, so now that this is happening we are excited about what is going to happen in Northeast Alabama."
TVA Chairman Joe Ritch, a Huntsville attorney, said he is pleased with the sale.
"It's good for TVA and good for Jackson County," Ritch said.
Nuclear power critics, however, question whether Haney can come up with a viable economic project at Bellefonte, which they contend was designed in the 1960s and has not been adequately maintained through its history.
Garry Morgan, a member of the anti-nuclear group Mothers Against Tennessee River Radiation, wants Bellefonte and its 1,600 acres of riverfront land converted into another type of power generation.
"Nuclear power would strap future generations of Jackson County citizens and any corporation involved in operations with highly radioactive spent nuclear fuel for a thousand years and cost another $1.5 billion for security and long-term storage of the highly radioactive nuclear fuel," Morgan said.
But Haney has long maintained that TVA is wrong to walk away from Bellefonte and will someday need the power.
"I never give up on anything if I believe in it, and eventually I think that right will win," Haney told the Times Free Press three years ago when he tried to convince TVA to join with him to finish the plant.
A native of rural McMinn County, Tenn., Haney is an attorney who ran unsuccessfully for U.S. Congress in 1966 and Tennessee governor in 1974. He then went on to build a development portfolio that includes more than 15 million square feet collectively valued at more than $10 billion.
Haney has built a fortune on lucrative real estate and government over the past half-century. In 2000, Haney paid $23 million for a South Florida mansion once owned by the Hearst newspaper dynasty. He now lives there, having added a $52 million yacht to go along with his oceanfront home.
From his Chattanooga roots, Haney built a half dozen buildings leased to TVA, including the former Haney Building, Republic Building and Liberty Tower that previously housed TVA employees in Chattanooga. In Washington, D.C., Haney owns the Dulles Greenway Toll Road and the Portals Office Complex, one of the biggest government-leased offices in the district.
In Monday's bidding for Bellefonte, Haney won out over one other bidder, Jackson Holdings of Alabama LLC, which represented investors wanting to use equipment from the unfinished reactor for a nuclear plant in India, according to Aaron Abadi, CEO of the National Environmental Group in New York City.
"Unfortunately, we didn't have the time or resources to put together an offer for a bigger bid," Abadi said. "There are a lot of uncertainties with this project."
TVA began building Bellefonte in 1975 and suspended nearly all construction by 1988. At the time, TVA said the first reactor was nearly complete. But changing regulations, technology and river flooding analysis have forced costly changes at the mothballed plant.
Phoenix Energy of Nevada, which had proposed trying to build a new type of energy generation system at the plant, did not bid.
"We weren't able to put the financing in place in time," said Brian Smith, managing partner for Phoenix Energy.
The Nuclear Energy Institute, an industry trade group, estimates about 30 nuclear plants have been sold in part or whole since 1999. But Michael Purdie, the institute's manager of energy and economic analysis, said the sale of a nuclear plant without other assets to a private individual is unique.
Contact Dave Flessner at dflessner@timesfreepress.com or at 423-757-6340.