Photo Gallery
Tennessee winning in spite of its futile defense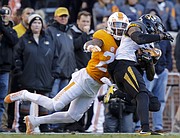 KNOXVILLE - The numbers were startling. The Missouri football team, which has three wins in 11 games now following Saturday's 63-37 loss to Tennessee, had just set a record for a Volunteers opponent by piling up 740 yards of total offense.
Not that Vols coach Butch Jones wanted to focus on the negative after the Big Orange improved to 8-3 for the season in its final game in inside Neyland Stadium this season.
"Well, it's all about winning the football game," Jones said. "I thought we made some critical stops at some critical moments. We also took the football away (two fumbles, two interceptions), which was big. We talk a lot about taking the football away. So there were some things to build upon."
Yet Jones also said this: "Obviously, I think it starts first with tackling. We did not run our feet. There were too many missed tackles. We were lunging. We ran our gaps a number of times and just missed the tackle, so a lot of it sometimes is fundamentals."
The fundamental truth is that the Vols' record has little to do with its defense. Team 120 wins in spite of its defense rather than because of it.
That's not a knock at the individual personnel or even the coaching of first-year defensive coordinator Bob Shoop and the rest of the staff, given the immense number of injuries the team has suffered everywhere, but especially on the defensive side of the ball.
Such depletion allowed Kentucky to run for 443 yards against the Vols a week earlier. On Saturday against Mizzou, it was worse overall, the Tigers running for 442 and passing for another 320 to break the previous opponent yards total set by Troy in 2012, which, of course, was also a UT win.
"It's very frustrating, I won't lie," said defensive back Rashaan Gaulden. "I looked at the stats sheet and I saw 740 total yards: You can't really get too hot about that, because that's a lot of yards. All we can do is focus on the win. But at the same time, we need to fix the problem."
Added fellow defensive back Micah Abernathy: "I wouldn't blame it on our injuries because we have a next-up mentality. It's just the defense as a whole needs to fit the run plays. It's nothing the offense is doing, it's all on us."
It is frustrating, and it apears to be getting worse by the week, the Vols now outgained in total yardage four of the last five weeks and each of their last four games against FBS foes.
Yet senior defensive back Cam Suttton wasn't ready to be too critical in his second game back from injury.
"We did come out with the win," he said. "We did win the game."
Contact Mark Wiedmer at mwiedmer@timesfreepress.com