Photo Gallery
Belew Christmas @ Wildwood Park for the Arts — 12/13/13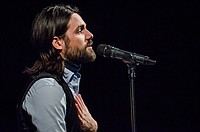 12/13 — Former The Voice contestant Cody Belew serenaded the audience with Christmas classics and tracks from his new album.
Families of the children who died in Monday's bus crash are beginning to mourn and remember their children publicly.
Cordayja Jones, 9, and Zoie Nash, 9, both died in the crash, their families said. Six-year-old D'Myunn Brown was killed, his family confirmed. Friends and family of Zyanna Harris, 10, took to social media today to mourn her death in the crash as well.
Zyaira Mateen, 6, also died in the crash, her mother, Jasmine Mateen, told the Atlanta Journal-Constitution.
Cordayja loved being a big sister and was a kind-hearted girl, said her cousin, LaFrederick Thirkill. He is also the principal at Orchard Knob Elementary School.
"She was always smiling, very soft spoken," he said. "My heart is truly broken for her and her mother."
She would have turned 10 years old in December, Thirkill said.
Zoie was a fourth grader who loved playing softball, made good grades and was also on a dance team, said her uncle, Antwon McClain. She was the only girl in a family of brothers. One brother was injured in the crash, but has survived.
"She was so lovable," McClain said. "She had a great spirit. She was a great athlete."
D'Myunn was a smart, playful boy, his cousin, Sharri Brown said.
"He loved his family," she said.
Zyanna was funny, sassy and not shy, said Tar'Dajah Rucker, 13, a close friend.
"If she got something to tell you she ain't going to hold back," she said. "She ain't shy."
At least five children died in the bus crash on Talley Road around 3:20 p.m. on Monday, authorities said. Three fourth graders, one first grader and one kindergartner were killed.
It took emergency crews several hours to remove trapped children from the bus, and investigators were at the crime scene late into the night.
There were 37 children on the bus at the time of the crash. Police believe the driver, Johnthony Walker, 24, was speeding. He has been arrested and charged with five counts of vehicular homicide, reckless endangerment and reckless driving.
Thirkill said today that he's spoken with Walker's family, and that they are distraught about the accident. He said he told Walker's family that he was praying for them as well as for the families of the children who died.
Contact staff writer Shelly Bradbury at 423-757-6525 or sbradbury@timesfreepress.com with tips or story ideas.