Photo Gallery
Belew Christmas @ Wildwood Park for the Arts — 12/13/13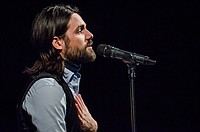 12/13 — Former The Voice contestant Cody Belew serenaded the audience with Christmas classics and tracks from his new album.
The Chattanooga Mocs and their opponent in Saturday's FCS playoff game will pay tribute to the victims of the Woodmore bus crash that left six children dead and others injured.
Weber State University will wear a helmet sticker of a white ribbon with "Woodmore" written inside in purple.
The Mocs will wear the same sticker with UTC's color scheme inside.
The teams also set up a joint fundraiser to raise money for victims.
You can view a video about the fundraiser here and learn more about it here.
The Tennessee Titans will also wear commemorative stickers and donate $25,000 to The Woodmore Fund, the team tweeted.