Photo Gallery
Tinsel and Tutus @ Reynolds Performance Hall — 12/12/13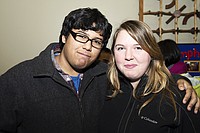 12/12 — The Conway Symphony Orchestra entertained with Christmas music, including highlights from The Nutcracker performed by the Arkansas Festival Ballet.
NTSB launching Go Team to investigate school bus crash in Chattanooga, TN. Team to deploy a.m. of Tuesday, 22 Nov.

— NTSB_Newsroom (@NTSB_Newsroom) November 22, 2016
My heart goes out to the families of the children that were killed & injured in the school bus crash in Chattanooga this evening. TT

— Colonel THP (@THP_Colonel) November 21, 2016
Thoughts, prayers to victims of tragic school bus crash in Chattanooga & their families. A very sad situation. Will do all we can to assist.

— Gov. Bill Haslam (@BillHaslam) November 22, 2016
There are no words to comfort the broken heart of a mother or father. As I pray for families affected by tragedy, I ask you to do the same

— Andy Berke (@AndyBerke) November 22, 2016
Devastating news coming out of Chattanooga. Thoughts and prayers with students and families of Woodmore Elementary School.

— Butch Jones (@UTCoachJones) November 22, 2016
She swerved right, but there was nowhere to go.
On the afternoon of Sept. 20, Belinda Hamilton rounded the corner of Sylvan Drive, a narrow two-lane road in the Brainerd area. To her left, she saw a school bus whip through a stop sign and turn right, barreling toward her. The bus crossed the center line. Hamilton swerved right, but there was no room - the braking bus scraped against her Kia Soul.
"Luckily, no one got killed," she thought that day. "What's going to happen the next time?"
A Chattanooga police officer wrote that the bus driver, 24-year-old Johnthony K. Walker, was at fault in that crash. But the officer did not cite Walker for any violations, and he continued driving the bus route.
Two months later, on Monday afternoon, Walker was driving fast on Talley Road in Brainerd and lost control of his bus, swerving off a narrow two-lane roadway to the right, striking an elevated driveway and mailbox, his arrest affidavit states. He then swerved to the left and the bus overturned, hitting a telephone pole and a tree.
The bus filled with 37 children toppled to its side, wrapping around a tree. Five Woodmore Elementary students died in the crash - three fourth-graders, a first-grader and a kindergartner - and another six students remain in critical condition, according to Hamilton County Schools Interim Superintendent Kirk Kelly. Walker was arrested late Monday and charged with five counts of vehicular homicide.
Two hours after Monday's crash, Hamilton received a phone call from a representative for Sedgwick, an insurance company handling her claim with Durham School Services, the company Hamilton County Schools has contracted with since 2007 to provide busing services. Hamilton provided a copy of a voicemail from Sedgwick to the Times Free Press on Tuesday.
She found the timing of the call suspect - just hours after Walker had been involved in another, much more serious crash. On Tuesday, she said she also received a call from a lawyer representing Durham.
"He was shying me away from what happened [in September,]" she said. "I repeatedly told him what happened on that day. He was asking if I was drinking, under any medication, under the influence. I basically told him, 'I can't talk to you.'"
A Durham spokesperson declined an interview Tuesday evening when asked in an email about the lawyer's phone call to Hamilton.
Reneé Cosmé lives across the street from where Walker crashed into Hamilton, and her children rode his bus this school year. She said Walker wasn't supposed to take Sylvan Drive, a narrow road with a sharp bend right after drivers turn on it. Even smaller cars sometimes crash there, Cosmé said.
She said her children have already complained to her that Walker drove too fast and sometimes out of control. Other people living on Talley Road also said Walker would speed down the road, appearing to far exceed its 30 mph limit.
After the crash in September, Hamilton said the company's insurance offered to pay for the damage to her car. Meanwhile, the police department did not cite Walker and he continued working for Durham. The department's incident report does not mention Cosmé's claims: That Walker wasn't supposed to drive on that road, or that he ran a stop sign first.
Elisa Myzal, a spokeswoman for the Chattanooga Police Department, said officers usually don't cite bus drivers for crashes like that, when the vehicle crosses the center line. The bus is big, and there were no major injuries, and neither vehicle was damaged severely.
"It's almost impossible for them to stay on the line," she said. " [Walker] is listed at fault, and we let the insurance companies play it out from there."
Durham's vehicles have been in 346 crashes in the past two years, according to federal figures. Of those, 142 crashes caused injuries and three fatalities. During the same time frame, records show the company had 53 incidents involving "unsafe driving violations."
The Illinois-based company is one of the largest suppliers of school bus services, operating about 13,700 vehicles across the country and employing nearly as many drivers, according to the Federal Motor Carrier Safety Administration. Durham was awarded a "satisfactory" safety rating from the agency in July 2015.
Local records show Durham has been named in 21 lawsuits in Hamilton County Circuit Court since 2010. Just over half of those suits ended in minor settlements, records show. Other details were not immediately available because almost all of the case files are in court storage.
Durham School Services would not release Walker's personnel file Tuesday or comment on his history with the company or this week's fatal crash. The Hamilton County Department of Education also would not provide the Times Free Press with personnel records or any complaints that may have been filed against him.
But Durham records show the company hired another driver in Hamilton County who was deemed "ineligible" for the job after his criminal record turned up in a background check.
Alexander Rodriguez, 35, passed several phases of a rigorous application process in the fall of 2013, but a background check found prior convictions for gun and drug charges. The background check company deemed him "ineligible for hire," records show.
Applicants are "ineligible" if they have one or more felony or misdemeanor convictions in the last 10 years involving violence, weapons, controlled substances, sex crimes or burglary, according to a record from National Express LLC, Durham's parent company. During his application process, Rodriguez was not yet 10 years removed from the 2004 charges. Durham chose to hire him anyway.
Then in 2015, he was arrested and charged with raping a 15-year-old student-passenger in a Super 8 Hotel room. He was employed by Durham at the time.
A National Express spokeswoman did not respond to emailed questions Tuesday afternoon.
"I think the Durham employment application for Johnthony Walker may be telling, just as the application in the case of Alexander Rodriguez is telling," said Catherine White, an attorney representing family members in a civil lawsuit against Durham, Rodriguez, National Express and the Hamilton County Board of Education.
In a written statement, Durham said the company is devastated by Monday's fatal bus crash.
"We are working with the Chattanooga Police Department and Hamilton County School District to investigate," David Duke, CEO of Durham School Services, said. "We also have additional team members arriving in Chattanooga [Tuesday] to provide support."
Walker earned his commercial driving license in April, according to Christopher Hart, chairman of the National Transportation Safety Board.
At least 10 NTSB employees are investigating Monday's crash. The investigation's scope includes any potential causes, such as excessive speed, and also whether the school district and Durham provided proper oversight, Hart said.
The investigation is expected to take between 12 and 18 months to complete.
"Our mission is not to just understand what happened, but why it happened," Hart told reporters Tuesday afternoon.
In addition to the five counts of vehicular homicide, Walker faces charges of reckless endangerment and reckless driving, according to his arrest affidavit. Officials said more charges could be added as the investigation continues. He remains in custody on $107,500 bond and is scheduled to appear in court on Nov. 29.
Police said Walker was cooperative Monday.
Walker's neighbors described him Tuesday as a quiet person, never violent.
"He was just an ordinary guy," said Kevin Lewis, who has lived next to Walker's mom, Gwenevere Cook, for several years.
Cook was not at her house Tuesday afternoon.
Walker lived with his mother for years and would ride a skateboard to and from a job at Amazon, Lewis said.
The fact that Walker was just 24 years old and driving the bus concerns Lewis, who said a young driver does not have much experience behind the wheel.
"They need to do a better job of hiring bus drivers," Lewis said.
Walker is the youngest of four siblings, according to James Mathis, another one of Walker's neighbors who said he's lived next to the family for several years.
"I can't say nothing but good things about him," Mathis said. "He was quiet to me and stayed to himself gave me a lot of respect."
Walker graduated from Brainerd High School, according to school officials.
Chattanooga police and Hamilton County Schools officials confirmed Tuesday that five children died in the crash, and that six kids remained in critical condition. On Monday, the Hamilton County District Attorney's Office told the Times Free Press and other media outlets that six children had died.
"[Monday] was the worst day that we have had for Woodmore and for Hamilton County Schools that I can recall in my life as an educator and as a parent and as a member of this community," Kelly said early Tuesday morning outside of Woodmore Elementary School.
Kelly addressed reporters with dozens of school officials and elected officials standing behind him. As kids began arriving at school, many in tears, school staff members were quick to greet and support them. Throughout the day, counselors and food were provided for students, their families and the community.
"Those that want to come to school, we are here to reach out and help," Kelly said.
Staff writers Zack Peterson and Emmett Gienapp contributed to this story.
Contact staff writer Kendi A. Rainwater at 423-757-6592 or krainwater@timesfreepress.com. Follow on Twitter @kendi_and
Contact staff writer Tyler Jett at 423-757-6476 or tjett@timesfreepress.com. Follow him on Twitter @LetsJett.