Photo Gallery
Belew Christmas @ Wildwood Park for the Arts — 12/13/13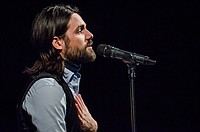 12/13 — Former The Voice contestant Cody Belew serenaded the audience with Christmas classics and tracks from his new album.
Photo Gallery
Tinsel and Tutus @ Reynolds Performance Hall — 12/12/13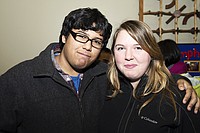 12/12 — The Conway Symphony Orchestra entertained with Christmas music, including highlights from The Nutcracker performed by the Arkansas Festival Ballet.
UPDATE Nov. 23 at 8:00 p.m.: A sixth child injured in the Woodmore Elementary bus crash died today, according to police.
Family identified the boy as Keonte Wilson, 8.
---
Previous story follows:
After the bus crash, Antwon McClain drove all over the city looking for his 9-year-old niece.
He drove to the site of the crash on Talley Road, to Woodmore Elementary School, and to Erlanger hospital. He drove to Parkridge and Memorial hospitals, then back to the crash scene.
"We would have gone to the end of the world to look for her," he said.
But Zoie Nash couldn't be found.
Hours later, the family finally knew - Zoie, 9, had been killed in the bus crash, along with four other students. Cordayja Jones, 9, and D'Myunn Brown, 6, also died, their families said on Tuesday.
Zyanna Harris, 10, and Zyaira Mateen, 6, lost their lives as well, friends and family said.
Chattanooga police have declined to confirm the identities of the children who died because they are minors. But on Tuesday, families and friends began to mourn and publicly remember those who were lost.
A gifted softball player, Zoie had just learned to pitch, always kept a smile on her face, wore No. 1 and could play anywhere on the field, said her coach, Larry Hunt. She was the only girl in a family of boys.
Nine-year-old Cordayja was just three weeks away from her 10th birthday. She was soft-spoken, kind and loved being a big sister, said her cousin, LaFrederick Thirkill.
Zyanna, 10, was always funny, but she couldn't stop laughing the last time she hung out with friend Tar'Dajah Rucker, the 13-year-old said. The pair played on treadmills in a hotel during a birthday party.
Zyanna was funny, sassy, and far from shy, Rucker said.
"If she got something to tell you, she ain't going to hold back," she said.
Zyaira dreamed of being a doctor, even though she was just 6 years old, her mother, Jasmine Mateen, told the Atlanta Journal-Constitution.
And at 6, D'Myunn Brown was an "all-around little boy" who was smart, playful and loved to go to school, said his cousin, Sharri Brown. He was an only child.
All were too young.
"It's just unbelievable," Hunt said, voice breaking. "I just can't understand how this happened."
As authorities worked to unravel how the crash unfolded on Tuesday, some witnesses recounted the horrific moments after the bus careened into a tree on Monday afternoon.
After a loud bang and a cloud of dust, residents could see some children lying in the grass and could hear others crying for their parents.
Elise Braswell Martin opened her front door to find bloodied children walking away from the overturned bus. She consoled the children closest to her, and helped whoever she could find.
"Every time I close my eyes, I see the children walking across the street," she said.
Alice Careathers said she still had a knot in her stomach a day after witnessing the crash.
"It's never left," she said. "I'm still seeing it."
The bus often sped through the neighborhood, she said, and she had asked the city to install speed bumps on the curvy road before, but was told officials couldn't install the bumps because the road was a "main street."
The man driving the bus, Johnthony Walker, 24, graduated from Brainerd High School. He has been arrested and police believe he was speeding at the time of the crash.
As Thirkill mourned his cousin, Cordayja, the Orchard Knob Elementary School principal said he was also praying for Walker's family.
"I can only imagine what he must be going through," he said. "And I know his heart is broken as well."
In addition to the five students who were killed, another six students remained in critical condition at Erlanger on Tuesday, a hospital spokeswoman said.
The families of the surviving children took to social media as well, posting photos of smiling faces, and asking for prayers for nieces and nephews, for surgeries and internal bleeding and broken bones.
Contact staff writer Shelly Bradbury at 423-757-6525 or sbradbury@timesfreepress.com with tips or story ideas. Follow @ShellyBradbury.