Photo Gallery
Belew Christmas @ Wildwood Park for the Arts — 12/13/13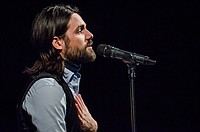 12/13 — Former The Voice contestant Cody Belew serenaded the audience with Christmas classics and tracks from his new album.
When 9-year-old Cor'Dayja Jones wanted to tell her aunt a secret, she'd sidle up and start all sassy. Auntie, girl, let me tell you what happened...
Then she'd delve into the story, cute as a button, said her aunt, Ashley Allen.
The fourth-grader at Woodmore Elementary died Monday when the school bus she was riding in swerved off the road and slid into a tree. Allen rushed to the hospital after she heard about the crash, calling Cor'Dayja's mother over and over again.
But Cor'Dayja was already gone. When Allen finally got to her sister at the hospital, she was holding Cor'Dayja close and screaming. Look at your niece! Look at my baby!
"[Cor'Dayja] was just laying there peacefully, but bruised up," Allen said.
Both sisters broke down.
Thinking back, Allen can't come up with a single negative memory of her niece. Cor'Dayja was sweet and could be shy at times. She was sensitive, and loved to go roller-skating with friends. She sang in the children's choir at Redemption Point Church.
"She loved playing dress-up and loved for her lip gloss to be popping," Allen said.
Cor'Dayja was just three weeks shy of her 10th birthday, said her cousin LaFrederick Thirkill. Thirkill, principal of Orchard Knob Elementary School, said Cor'Dayja once was one of his students.
"She gave me a hug every day when she was out here," he said. "And I gave her a hug every day. I constantly see her at family events and my heart is truly broken for her and her mother."
As a school administrator, he never had to deal with Cor'Dayja, he added. She was well-behaved.
Her name is a mix of Cornelius, her father, and Cordarius, her older brother, Allen said. Cor'Dayja also loved being a big sister to her younger sister, Cor'Dariuna, Thirkill said.
Sometimes, she'd do or say something so grown up that all Allen could do was shake her head. And sometimes, Cor'dayja's mom would laugh and tell Allen not to blame Cor'Dayja - she was just copying Allen.
"She was my shadow," Allen said. "Day and night."