Photo Gallery
Belew Christmas @ Wildwood Park for the Arts — 12/13/13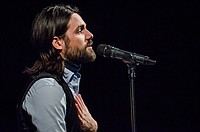 12/13 — Former The Voice contestant Cody Belew serenaded the audience with Christmas classics and tracks from his new album.
Hot wings and cereal.
Those were D'Myunn Brown's favorite foods.
The kindergartner at Woodmore Elementary never, ever turned down hot wings or cereal, family said. The 6-year-old died when the school bus he was riding ran off the road and slammed into a tree on Monday.
D'Myunn's mother lost her only child.
Thin, but tall for his age, D'Myunn was smart, spontaneous and funny. He loved to play outside and be out in nature, family said, and he'd also spend hours playing games on his tablet.
He loved to learn and enjoyed school, his aunt, Sharri Brown, said.
"He was one of a kind, there will never be another D'Myunn," she said. "He's special. He's everything anyone would want in life."
He'd dance all the time, she said. Lately, he was all about dancing to "Juju on that Beat," a rap song that recently went viral on YouTube.
"He was an all-around little boy," Brown said. "He loved his mama the most."