How to give
Give money to the families of the Woodmore Elementary bus crash victims by visiting: http://connect.chattanooga.gov/woodmore-donation.New Monumental Baptist Church, at 901 Woodmore Lane, is accepting physical donations for families.Officials with the Hamilton County Department of Education ask that all donations go through the church or the fund, as they are hoping to make Monday as normal a school day as possible for students and teachers at Woodmore.
Photo Gallery
Tinsel and Tutus @ Reynolds Performance Hall — 12/12/13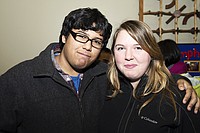 12/12 — The Conway Symphony Orchestra entertained with Christmas music, including highlights from The Nutcracker performed by the Arkansas Festival Ballet.
When tragedy strikes, Chattanooga stands strong.
As ambulances carrying Woodmore Elementary students from bus No. 366 barreled toward the hospital Monday night and firefighters worked with police to rescue the children still trapped inside the toppled bus on Talley Road, people across the city became second responders.
Prayers were raised for the 37 children who were riding the bus, and their families. The line to donate at Blood Assurance quickly reached out the door, and people began preparing food. Others flooded the hospital, offering support to families awaiting news about their children. And teachers across the county arrived at Woodmore Elementary, preparing the school for the grieving teachers and students who would walk through its door Tuesday morning.
This was not the first time Chattanooga has quickly mobilized to support families in the face of tragedy.
"We would like to be less practiced at the response," Chattanooga Mayor Andy Berke said Friday afternoon.
The fatal bus crash that claimed six young lives came 16 months after four Marines and a Navy officer were gunned down in a terror-related attack July 16, 2015.
Though the two instances are vastly different, both involve families facing devastating loss and a swell of community support.
In the face of tragedy, whether from terror, tornadoes or this tragic bus crash, Chattanooga bands together, setting aside socioeconomic status, race and religious denominations, said the Rev. Kevin Adams of Olivet Baptist Church.
"This coming together, understanding that we are all a part of the human race, that's what makes us strong," Adams said.
Woodmore Elementary is a school of almost 400 students, nestled in the Brainerd area in one of the poorest pockets of the city. Nearly all the students are minority and come from families of generational poverty.
Before the sun rose Tuesday morning, plans were underway to create a fund for the Woodmore families. As of Saturday, more than $117,000 had been donated.
"One thing we learned after July 16 is that we need to give people the opportunity to participate," Berke said. "We understood [after the crash] that Chattanoogans would want to contribute immediately."
More than $1 million was raised in just two months last year to support the families of those killed or wounded in the July 16 shootings.
Chattanooga Police Chief Fred Fletcher said it's a strange, mixed blessing to have a community and trained responders good at handling critical and challenging situations like these.
Minutes after the Talley Road crash, police, firefighters and other first responders began doing things no one should ever have to do, Fletcher said, as they worked to rescue children from the bus.
It's difficult to ask first responders to face events like the July 16 shootings, the fatal Interstate 75 tractor-trailer crash in June of last year, which killed six people, and now this bus crash, Fletcher said.
"Nobody should have to face a single one of these incidents - or several of them - but someone has to," he added.
***
But figuring out how to sustain this outpouring of support is where the work can get difficult.
There is developing literature on post-traumatic growth and community resilience after tragedies like the bus crash, said Nicky Ozbek, professor of psychology at the University of Tennessee at Chattanooga.
"We are all impacted because it is all our children," Ozbek said. "Whether you were directly or indirectly impacted, you have to deal with [the loss.]"
People can do together what individuals alone cannot, she said, and banding together for change can help communities heal.
It will take a community effort to ensure kids are safe in the future and all voices are heard, she said. That could include changing policies, providing increased support to bus drivers, or increasing oversight.
"We should not just go back to normal, the way things were," she continued.
But this is a hefty task, she admitted, and the school district can't do it all alone.
Karitsa Mosley Jones, who represents Woodmore Elementary on the Hamilton County Board of Education, said the outpouring of support has been overwhelming, in the best way.
"I don't even think the words 'enormous' or 'tremendous' are right to describe the love and support that's been shown to the Woodmore community," Mosley Jones said.
This heightened level of support hasn't always been there for Woodmore Elementary and many of the county's minority and poor schools, she said. In the coming months and years, she hopes the community remains involved in helping these students receive a safe and equitable education.
"It's not too late to continue providing support," Mosley Jones said. "Come on in and join us and help these babies be the best they can be, in memory and in honor of their peers."
Adams said families affected by the crash need support, but so do students attending the district's high-poverty schools every day.
He said he was struck while visiting Woodmore by how much the community could do to help the school, from improving the facilities to providing kids with meals over the weekends or helping with homework.
But there is also a lot of healing and repair that money can't buy, Adams said, because families facing the loss of a child, or one with severe injuries. These families are going to need long-term counseling and increased support systems, he said.
"I still hear cries. I wake up every morning hearing the cries from those parents in those hospital rooms," said Adams, who was at the hospital Monday night when parents were learning their children died in the crash.
"Nobody can prepare for this type of loss," he said. "This is new to these parents. This is new to us."
Looking ahead, Roderick Ware, the pastor of First Monumental Baptist Church, hopes the community as a whole comes through the grieving process with a resolve to love one another and tackle problems together.
"What we are experiencing now is how fragile and precious we are all to one another," he said. "I think it will roll over into other aspects of the community. We have to make sure we overcome some of the hurdles and obstacles in our community."
Ware hopes the current surge of support doesn't dissipate in coming months, and he has been telling people not to let these lives be lost in vain, and to honor the kids by working to better their school and community.
New Monumental Baptist Church is only a few blocks away from Woodmore, and for years the congregation has made it its mission to support the school. On Tuesday night the church was filled with more than 600 people who wept together and sang "Jesus Loves Me," remembering the students who died in the crash.
The church is also a designated drop-off point for donations to those affected by the crash.
***
As the sun rose Tuesday morning, Susan Latta, the bereavement coordinator at Hospice of Chattanooga, was one of many counselors arriving at Woodmore Elementary ready to help.
Sitting on the floor with a third-grade class, Latta talked with the kids as they made cards for their classmates still in the hospital. As of Saturday, several children remained in critical condition.
"I talked with some of the kids who were on the bus and they shared with me how scary it was," she said. "I talked with a couple kids who were just having a hard time realizing their fourth-grade classmates had died."
But the aftermath touches more than the families and students; it affects teachers, school leaders, bus drivers, first responders and the community, she said.
The suddenness and unfairness of lost lives - whether in a bus crash or a terrorist attack - can make it more difficult for people to handle, and many "why" questions linger.
Tuesday was not the first time Latta has helped students grieve; she also worked at Columbine High School in Colorado after the mass shooting in 1999 that left 12 students and a teacher dead.
"I worked with some of the kids who were in the school for a year-plus afterwards with all the trauma from that," she said.
The healing process can take a long time and differs among individuals. Her job at Columbine was to be present and help kids through the process, whatever that may look like for them. She said kids at Woodmore will need similar support.
For Donna Noble, reading the words "fatal school bus crash" on social media set off a cascade of memories.
On a foggy Wednesday morning a little over eight years ago, Noble lost her only child, Jenny Noble, in a school bus crash in Alberta, Canada.
Jenny had posed for her senior portrait the Friday before the crash. Jenny and her mom spent Saturday buying a dress for her graduation ceremony, not knowing their time together was quickly slipping away.
Jenny had a car and driver's license and could have driven to school that day, Noble said, but she was a bubbly extrovert who loved school and riding the bus. Noble said she never thought about a gravel truck plowing into the back of the school bus on a rural highway.
"You just never think something like this will happen," Noble said by phone Friday. "You don't have time to prepare."
Noble, a firefighter, was at the fire station when she heard there was a bus crash and a "1038," the code for a fatality. Minutes later, Jenny's bus number came across the radio, and Noble said she knew immediately her daughter was gone.
Noble remains a first responder and carries a picture of Jenny in her breast pocket. She has responded to several minor school bus crashes and has worked traffic fatalities since her daughter's death.
"It's hard, but I'm OK because I've got a job to do," Noble said. "I was not on scene when people did the best they could to care for Jenny. Now it's my time to do this for others."
Noble's small, rural community rallied around her after the crash, but she said the hardest point was after the memorial service, when she was suddenly alone.
"That is where the gap is," she said. "Tell Chattanooga to stay with these families, stay behind them."
Outside of Jenny's school, a couple of benches are placed in her honor, and people go there to feel near her, Noble said.
She encouraged Chattanooga to do something similar as a lasting memorial, a way of always celebrating the lives of 6-year-olds D'Myunn Brown and Zyaira Mateen, 8-year-old Keonte Wilson, 9-year-olds Zoie Nash and Cor'Dayja Jones and 10-year-old Zyanna Harris.
Just like what Chattanooga has done to honor the five military servicemen: Sgt. Carson A. Holmquist; Gunnery Sgt. Thomas J. Sullivan; Staff Sgt. David A. Wyatt and Lance Cpl. Squire K. "Skip" Wells, all Marines; and Navy Petty Officer 2nd Class Randall J. Smith.
Emmett Gienapp contributed to this report.
Contact staff writer Kendi A. Rainwater at 423-757-6592 or krainwater@timesfreepress.com. Follow on Twitter @kendi_and.