Photo Gallery
Great Smoky Mountains wildfires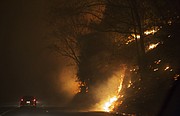 The Dollywood Foundation will donate $1,000 a month for six months to the families who lost their homes in the Great Smoky Mountain wildfires.
Dolly Parton announced the launch of the new My People Fund in a video released this evening.
"We want to provide a hand up to those families who have lost everything in the fires," Parton said in the video.
The Dollywood Foundation is accepting donations to contribute to the fund. To donate, visit www.dollywoodfoundation.org.
More details will be released Dec. 2, according to a press release from Webster Public Relations, which represents Dolly Parton.