Photo Gallery
Bridal Show @ Statehouse Convention Center — 01/19/14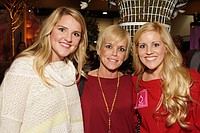 01/19 — The Arkansas Democrat-Gazette's 18th annual event featured 200 booths for brides-to-be, friends, family and and fiances to check out.


View Our Coverage of the Deadly November 2016 Storms
Three people in Rosalie, Ala., were killed and at least a dozen others were injured as storms smashed through Jackson County and into DeKalb County overnight.
Jackson County EMA Director Mike Ashburn said three people were killed within the town limits of Rosalie along Alabama Highway 71 where a tornado touched down about 12:30 a.m.