Photo Gallery
Finish a punch in the gut for Bulldogs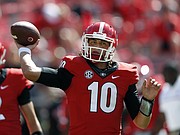 ATHENS, Ga. - As Tennessee quarterback Josh Dobbs launched his final pass of Saturday's game from near midfield, the Georgia Bulldogs had the Volunteers outnumbered in the end zone.
There were six Georgia defensive backs awaiting a chance to swat the ball away, as well as linebackers Lorenzo Carter and Roquan Smith, with the 6-foot-6 Carter the tallest of the bunch. Four Tennessee receivers raced into the end zone hoping for something dramatic, which the 6-3 Jauan Jennings accomplished by jumping and snagging the 43-yard pass for the deciding score in the 34-31 Vols victory.
"It's something we practice, but we didn't execute," Carter said. "It's tough to lose like that. Hats off to the guy from Tennessee going up there and getting the ball."
Aaron Davis, Maurice Smith, Quincy Mauger, Dominick Sanders, Deandre Baker and Malkom Parrish are the six Bulldogs defensive backs who must live with Saturday's final play, with Smith having been down this road before. Smith was an Alabama freshman in 2013 when Auburn's Chris Davis took a short field-goal attempt and raced more than 100 yards to give the Tigers a 34-28 upset over the undefeated and top-ranked Crimson Tide.
Alabama was attempting to win that game with kicker Adam Griffith, and Georgia all but had Saturday's game won with a 47-yard touchdown strike from Jacob Eason to Riley Ridley with 10 seconds remaining.
"This is toe-and-toe with that game. It's right beside it," Smith said. "It's heartbreaking, and it's going to be something that's hard to get over. We have to take pride in the fact that we still have opportunities out there and we have to do a great job of maximizing those, but the feeling is exactly the same.
"It just hurts to have this happen twice in a lifetime."
Jennings was behind Roquan Smith and Vols receiver Josh Smith when he began his winning leap for the ball. Mauger was beside Jennings, who was just in front of Carter and Sanders. Baker was beside Jennings at first but got lost in the mix once Vols receiver Jason Croom entered the fray being covered by Maurice Smith.
Parrish was behind the play, and Davis was running with Josh Malone into the chaos.
"I was right behind the play," Baker said. "Jennings high-pointed the ball, and that was our error. It was sickening knowing how hard we worked. This game was up and down like a roller coaster, and he made a good play, but it's sickening."
Tennessee's winning score, at least from the Georgia perspective, will forever be viewed as being much shorter than it needed to be. After the Bulldogs scored their unlikely touchdown, they were penalized for excessive celebration, which is a 15-yard unsportsmanlike conduct penalty marked off on the kickoff.
Bulldogs coach Kirby Smart said he was told by an official that a player ran on the field without a helmet, and video of the celebration revealed sophomore defensive back Rico McGraw as that player.
"We have to be a disciplined football team," Davis said, "and everyone should have the expectation that we're going to score so that when we do score, we're excited for our teammates but know we can't run out on the field. We have to take in that moment but then get ready for what comes next."
Said Maurice Smith: "For us to get that 15-yard penalty was a bad play. It shows that you can't get too high or too low, because there is always a last play."
Rodrigo Blankenship had a 48-yard kickoff to the Tennessee 32-yard line, and Vols standout return specialist Evan Berry raced 20 yards to Georgia's 48-yard line. The Bulldogs were then flagged for offside, leaving Dobbs and the Vols with a reasonable shot despite being outnumbered two to one.
"It was a sick way to end the game," Smart said. "It's what you try to defend against every Thursday in practice for the last 18 or 19 years. It's very disappointing to end a game that way, but I do want to give credit to Tennessee. They are a senior-laden team, and I really believe they won this game because they are more disciplined.
"We had some penalties cost us, and that's disheartening. I know it will come back to the last play, but there were a lot of things in that game that could have changed it."
The Bulldogs, who looked much improved from last Saturday's disastrous 45-14 loss at Ole Miss will play their fourth consecutive conference game this week when they travel to South Carolina. Putting this one behind them will not be easy, regardless of where the final play was viewed.
"I was watching on the jumbotron," senior guard Greg Pyke said. "I thought we had knocked it down, but we didn't. It's the sickest feeling I've had since I've been here."
Contact David Paschall at dpaschall@timesfreepress.com or 423-757-6524.
Photo Gallery
Vols re-rally past Georgia on game-ending Hail Mary pass