Photo Gallery
Finish a punch in the gut for Bulldogs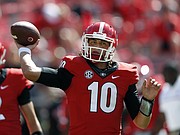 Photo Gallery
Vols re-rally past Georgia on game-ending Hail Mary pass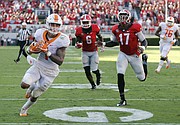 ATHENS, Ga. - Had Tennessee not connected on a 43-yard touchdown pass on the final play of its riveting 34-31 victory over Georgia on Saturday, the winning play would have been made by a pair of Bulldogs freshmen.
Before Sanford Stadium was filled with red-clad fans in disbelief, it was overrun with thunderous cheering after Jacob Eason hooked up with Riley Ridley for a 47-yard scoring strike with 10 seconds remaining. Eason stepped up in the pocket and rifled the pass down the left sideline to Ridley, who had raced behind Vols defensive back Malik Foreman.
"We hit a big play, and Jacob extended the play," Georgia coach Kirby Smart said. "They got stretched out, and Jacob's arm gives him the ability to make that throw. A lot of guys can't make that throw, and it's so long that the safety would have broken on it and got it out.
"We were very fortunate to get that score."
Ridley made his first collegiate catch earlier in the game, snatching a 12-yarder in the first quarter, and his second reception briefly made him a Bulldogs legend.
Eason completed 17 of 28 passes for 211 yards in his fifth game, which was his fourth start. He threw two touchdown passes, with freshman tight end Isaac Nauta accounting for the first one with a 50-yard score at the 4:07 mark of the third quarter that put the Bulldogs up 24-14.
Nauta, who broke into open field after blowing by Vols linebacker Cortez McDowell, set career highs with five catches for 83 yards. He entered Saturday with four receptions for 32 yards.
"Those guys aren't freshmen any more," Bulldogs senior right guard Greg Pyke said. "They've played a lot of football. Maybe they're considered freshmen, but once you start playing football here, you're no longer a freshman.
"They've been playing a lot of football."
Freshman running back Brian Herrien rushed 15 times for 74 yards, so the rookie trio of Nauta, Ridley and Herrien accounted for 216 of Georgia's 392 total yards.
"Those freshmen grew up," Smart said. "They made mistakes and still don't line up right sometimes, but they made plays against a team to me that is the most experienced in our league. I can't say whether they're the best or not, but they're the most experienced."
Contact David Paschall at dpaschall@timesfreepress.com or 423-757-6524.